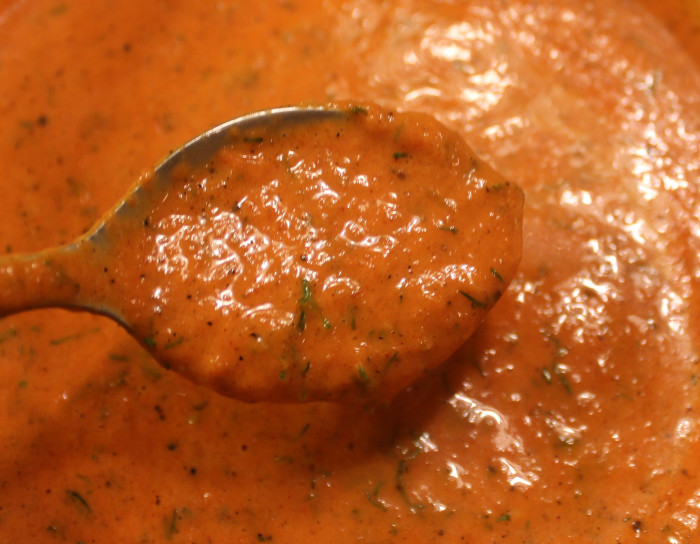 When you say the word "ketchup" you are repeated two syllables that are thousands of years old. The syllables have not changed but the "thing" sure has.
The original ketchup was a fermented fish sauce made in Southern China. It's a long way from that origin to bottles of Heinz stacked on grocery store shelves. The big translation, from Asia to Europe, was implemented by the British who began to make their own formulations of the ketchup. They were seeking to reap the profits of a tangy sauce people loved in Europe, but they wanted to skip the step of paying for it in Asia and transporting from Asia.
Americans, with a surplus of tomatoes, concocted their own versions. A hundred years or more ago, American cookbooks had lots of recipes for making ketchup. Now they don't and we simply grab bottles off the shelf. But, but there are still folks out there with "ketchup" ideas. William Rice in The Steak Lover's Cookbook is one such man and this is one such recipe.
No tomatoes here. Essentially roasted red bell peppers and dill with some spices and vinegars and olive oil added the mix.
What is the ketchup, okay faux ketchup, like? It's wonderful. You have the smoky flavor of roasted peppers. The bite of red pepper itself. And a layer of deep dill flavor. Do not skimp on the dill here. I used the full ⅓ cup suggested. You taste dill, but it is a Goldilocks situation: not too little, not too much, just right.
How do I use the ketchup? I've tried it on steak, chicken and as a salad dressing. Are you fond of baked potatoes, then this ketchup along with butter and chives makes for a perfect potato.
---
Red Pepper and Dill Ketchup

Yield: about 3 cups

Ingredients:

2 red bell peppers, roasted, peeled, and seeded
½ cup minced scallions, white only
1 teaspoon paprika, hot or sweet, preferably Hungarian
¼ teaspoon freshly ground black pepper
¼ teaspoon white pepper
¼ teaspoon sugar
2 tablespoons fresh lemon juice or red wine vinegar
½ cup olive oil
⅓ cup chopped fresh dill
Salt, to taste
Preparation:

Cut the bell peppers into chunks and place them in a food processor or blender. Add the scallions, paprika, black pepper, white pepper, sugar, and lemon juice. Process until the mixture forms a smooth puree. With the machine running, add the olive oil in a thin stream. Pour the ketchup into a small bowl and stir in the dill. Add the salt. Adjust the flavor with additional pepper or sugar, if desired. (The ketchup may be made ahead. Cover tightly and store in the refrigerator for up to 4 days.).
Source: Steak Lover's Cookbook by William Rice [Workman, 1997]

Photo Information: Canon T2i, EFS 60mm Macro Lens, F/4 for1/40th second at ISO‑3200