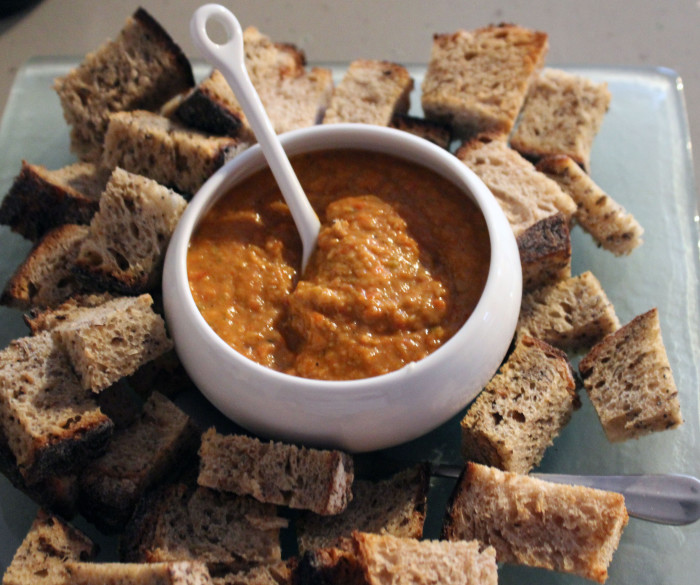 Suzen and I have become hummus purists, in the sense that we now know how to prepare perfect, velvety, just-so-slightly lemony hummus. And while we are not heretics, we still believe in hummus diversity.
Rose Elliot, a widely acclaimed British author, has just collected her best vegetarian recipes into The Best of Rose Elliot: The Ultimate Vegetarian Collection.
Her red pepper hummus, with some added paprika fire plus Tobasco, may not be the ultimate hot hummus but it could enter any contest. It's not too, too hot, but there is fire here that make this the perfect appetizer to match a red wine, especially a dark and stormy one.
This was our Easter Dinner appetizer. Served with toasted homemade bread, and with a bottle of serious red wine, this raised expectations for the entire meal. If you look at the previous recent blogs here — the Chipotle Cheddar Biscuits with Honey Butter and the Slow Roasted Lamb Shoulder with Aioli and Salsa Verde — you'll understand why no one was disappointed.
Even if your bread is not homemade, do toast your bread and serve it a tad black and definitely warm.
Author Rose Elliot suggests using a jar of whole sweet red peppers, in part for each of preparation. We elected to roast a couple of fresh red pepper instead. Fresh, fresh, fresh.
Red Pepper Hummus with Smoked Paprika
Yield: serves 4
Ingredients:
2 garlic cloves
1 can [15 ounces] chickpeas, drained
2 roasted red peppers
1 teaspoon honey
Tabasco to taste
½ teaspoon smoked paprika, to taste, perhaps a tad less
Coarsely ground black pepper
Warmed bread
Preparation:
Put the garlic cloves into a food processor and process until chopped. Add the chickpeas, red peppers, and honey and process again. Stir in the Tabasco and smoked paprika to taste.
Turn the mixture onto a flat plate or into a bowl. Smooth the surface. Grind some coarse black pepper over the top. Serve with strips or chunks of warmed grilled or toasted bread or pita.
Source: Best of Rose Elliot: The Ultimate Vegetarian Collection by Rose Elliot
Photo Information [top picture]: Canon T2i, EFS 60 mm Macro Lens, F/4.5 for 1/6th second at ISO-3200