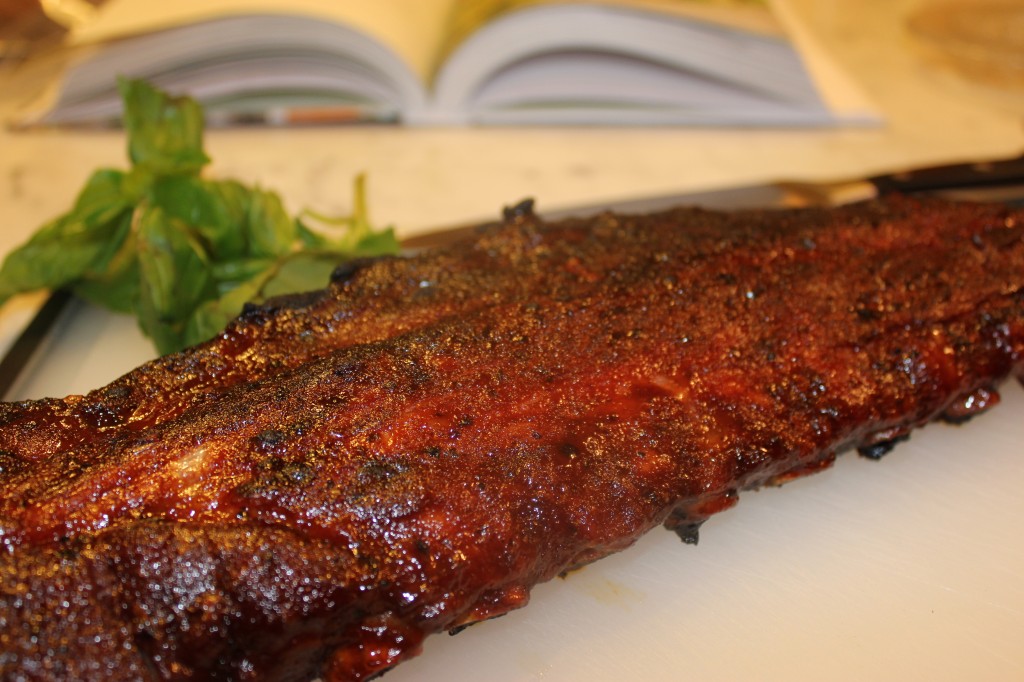 Last year, I blogged these ribs as the best ever. Better than any I had sampled at restaurants — and I've spent a lot of time in Texas, folks — and better than any other from a cookbook. I know that "best" is an overused superlative. I know. But I do mean it. If you want to have ribs for your Super Sunday, then I cannot recommend anything better.
Ah, one minor complication. During the Super Bowl, many of us watch the game and the commercials. There is never, never time for a bio break, let alone time to go wash goo off your hands. So, if you are going to have these ribs in front of your TV, some paper towels and hand wipes are a necessity. Not a big necessity, because you will have been licking your fingers to enjoy every last drop of sauce.
You are, of course, free to add to or modify the ingredients, but here I actually suggest you follow the recipe. The rub and the sauce clearly reflect great experimentation to hone on superior flavor. In the case, the experiment is a success.
Mr. Piggy's Revenge: Grilled Chipolte Baby Back Ribs
Yield: serves 4 to 6
For the rub:
¼ cup white cane sugar
2 tablespoons seasoned salt
1 tablespoon onion salt
2 teaspoons garlic salt
1 teaspoon celery salt
2 tablespoons paprika
1 tablespoon chili powder
2 teaspoons lemon pepper
1 teaspoon freshly ground black pepper
½ teaspoon ground ginger
½ teaspoon dry mustard
½ teaspoon ground chipotle chile
For the ribs:
For the sauce:
½ cup tomato-based barbecue sauce
1 ½ tablespoons orange marmalade
1 ½ tablespoons chopped chipotle chilies in adobo sauce
¼ cup water
Preparation:
Heat a cooker to medium to medium-high.
Combine all the ingredients for the rub n a small bowl and blend well. Season the ribs all over with rub.
Combine all the ingredients for the sauce in a small bowl and set aside.
Oil the grate and place the ribs on it bone side down over direct heat. Cover and cook for 45 minutes to 1 hour, or until pull-apart ender, turning every 5 to 7 minutes and glazing with the sauce during the last 30 minutes of cooking.
Transfer the ribs to a cutting board and let them rest, covered loosely with aluminum foil, for 10 to 15 minutes. While the ribs are resting, boil the remaining sauce for 1 to 2 minutes, if desired, before serving with the ribs
Source: America's Best Ribs by Ardie Davis and Chef Paul Kirk