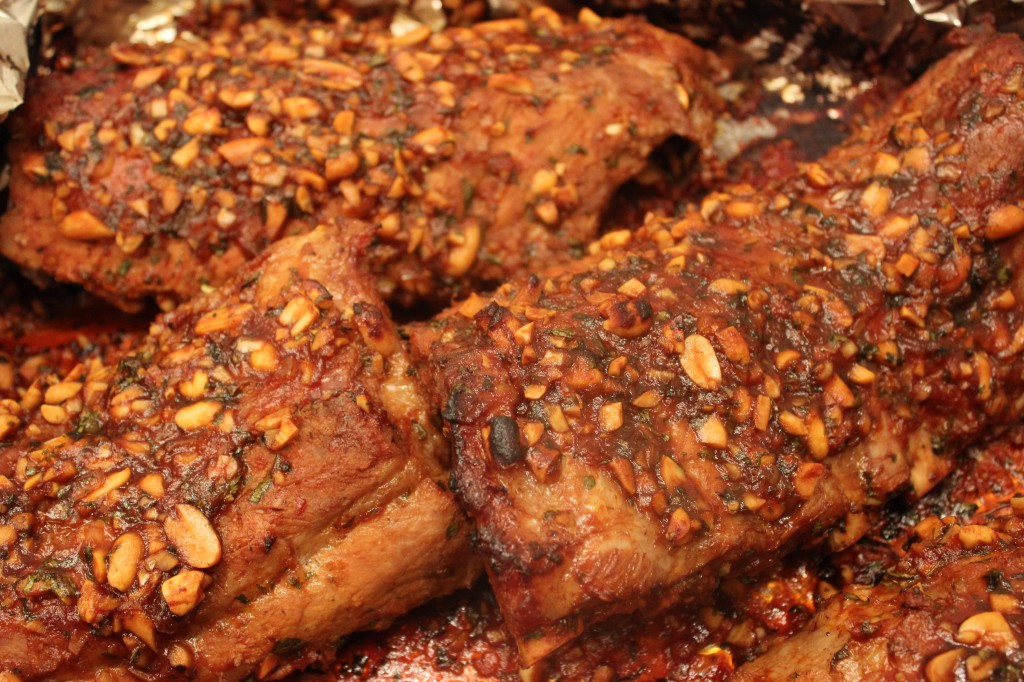 Pork and Sons was a brilliant book devoted to the noble pig. Now author Stephane Reynaud has written Rȏtis: Roasts for Every Day of the Week, an encyclopedia for those who grew up where the main meal for every day was themed. In this lovely book, the days of the week are each given a special dedication. Here are the days — Sunday doubles down — with some sample recipes:
Monday: Roast Beef [Borscht-Style, Poached, En Croute with Mushrooms]
Tuesday: Roast Veal [With Preserved Lemon, With Olives]
Wednesday: Roast Chicken and Game [Pigeons with Vegetables, Lyonnaise Style Rabbit]
Thursday: Roast Pork [With Endive and Orange, With Bacon and Comte Cheese]
Friday: Roast Fish [Monkfish with Smoky Bacon and Olives, Tuna with Sesame]
Saturday: Roast Lamb [Racks with Pistachios, Racks with Honey and Mint, Shoulder with Cumin]
Sunday Lunch: Roast Game [Venison Fillet with Raisins, Boar with Bilberries]
Sunday Evening: All the Rest [Meatballs, Croquettes, Stuffed Tomatoes, Stuffed Peppers]
There are a bevy of photographs — which is important because many of these unusually wonderful recipes have distinctive looks that you might not be able to easily imagine. And, there's a detailed supply of side dishes to complement each meat dish.
Those pictures also serve as advertising. Suzen saw this picture of ribs, and being a rib fanatic, simply announced that ribs would be served for dinner. The salivating scent and the visual beauty of the dish are intense. Once on the table, expect these ribs to quickly vanish. If you love onions and garlic, this is a rib recipe you just might repeat once a week.
Roast Spare Ribs with Toasted Garlic
Yield: serves 4
Ingredients:
2 ¾ pounds (1.35 kg) pork ribs
8 garlic cloves, chopped
2 French shallots, peeled and chopped
3 ½ ounces (100 g) peanuts, chopped
1 bunch cilantro, finely chopped
2 ¾ ounces (80 g) ketchup
5 ounces (150 ml) soy sauce
3 ½ ounces (100 ml) olive oil
3 onions, peeled and halved
2 leeks, halved
1 celery stalk, halved
1 bouquet garni
Preparation:
Preheat the oven to 350°F (180°C).
Combine the garlic, shallot, peanut and cilantro with the tomato sauce, soy sauce and olive oil and mix well into a marinade.
Put the onion, leek and celery into a large pot of water and allow to simmer over low heat. Add the bouquet garni, then immerse the ribs and simmer for 30 minutes over medium-low heat, skimming regularly.
Transfer the ribs to a flameproof roasting tin. Cover them with the marinade so that they are well coated, then roast the ribs in the oven for about 15 minutes, making sure the meat is well basted with the marinade. The ribs should have a glazed appearance and the meat should come away from the bones.
Source: Rȏtis: Roasts for Every Day of the Week by Stephane Reynaud