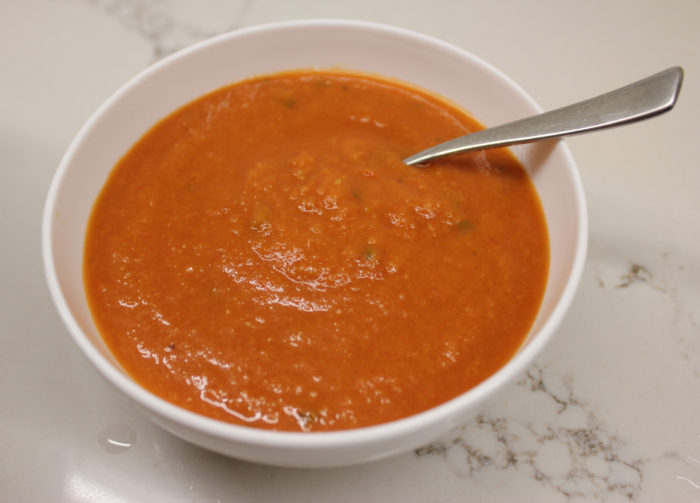 It's little hard to tell how great this soup is from the picture. I find getting "great" shots of liquids like soup to be difficult. But, if you look closely, you'll see the ripples in the soup that tell you this dish has "body." And the roasting provides a deep richness to the flavor. Regular gazpacho, made by just putting the ingredients into a blender, gives you a thin soup with a piercing bite.
By roasting, you deepen and enrich the flavors of those ingredients. And, I guess, introduce some sweetness too as the tomatoes and peppers experience some caramelization.
This is a most different interpretation of "gazpacho" and one you'll surely enjoy.
Ah, the original recipe called for garnishing the soup with diced cucumbers and onions. And you could toss on some croutons. But I like the simplicity of the soup and only the soup.
---
Roasted Tomato and Red Pepper Gazpacho
Yield: serves 6+
Ingredients:
4 pounds plum tomatoes, halved
5 large red bell peppers, divided
4 medium-size red onions, divided
½ cup extra-virgin olive oil
2 cups water, divided
3 tablespoons Sherry wine vinegar [or more to taste]
1 teaspoon hot pepper sauce [optional]
Preparation:
Preheat oven to 450°F. Place tomatoes on large rimmed baking sheet. Cut 4 peppers into 1-inch pieces; place on another rimmed baking sheet. Cut 3 onions into 1-inch pieces; add to peppers. Drizzle 1/2 cup oil over vegetables, tossing to coat. Sprinkle with salt. Roast vegetables until soft and slightly charred, about 50 minutes, switching positions of pans after 25 minutes. Puree half of vegetables with pan juices in processor until smooth. Add 1 cup water; process until very smooth. Transfer mixture to large bowl. Repeat with remaining vegetables and 1 cup water. Cover gazpacho; chill overnight.
Add the vinegar and, if you wish, the hot sauce.
---
Source: Bon Appetit
Photo Information: Canon T2i, EFS 60mm Macro Lens, F/3.5 for 1/40th second at ISO‑125