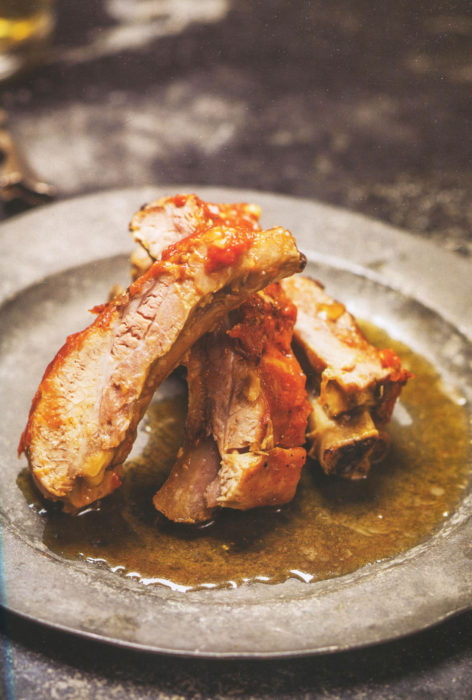 When I blogged the cookbook Bring It! in February, I was enthusiastic about the wonderful ideas inside its covers. The book is devoted recipes for potlucks and casual entertaining. It is food you can bring to a party or picnic. Or, it is simply food that you can enjoy all on your own.
Here's the last chance recipe idea I'm offering you from this book. I'm saying "last chance" because this is a summer dish using watermelon. Today is the first day of Fall 2018 and summer has left us with a few watermelons still — just as pumpkins begin to appear.
Here is a sweet watermelon sauce is combined with ribs to give you a surprising and refreshing main course.
You can see
. And, if you use the search box, you can find three other delights:
Shaved Carrot Salad
Cherry Tomato Tart
Fig, Goat Cheese and Rosemary Toast
Or, you just might cut to the chase, buy the book and enjoy all the treats waiting for you in a lovely book.
---
Roasted Watermelon Pork Ribs
Yield: 6-8 servings
Ingredients:
6 cups (roughly 2 pounds) seedless watermelon
2 cups cider vinegar
2 teaspoons honey
3 racks of baby back ribs (about 5 pounds)
Salt and freshly ground black pepper
Preparation:
Blend the watermelon in a blender until there are no chunks left. Add the watermelon to a wide pot with the vinegar and bring it up to a boil. Let the puree reduce for go to 3 minutes until it has reached a thick ketchup- like consistency. The timing will depend on the size of your pot. If you want to speed it up, try using a Dutch oven or a large, wide skillet. Add in the honey and stir.
While the sauce is reducing, turn on your broiler. Salt the ribs generously on both sides and place on a wire rack on top of a sheet pan. Put the ribs in the oven under the broiler for 5 to 7 minutes, with the meat side up. Remove once the meat has started to brown and let cool. Reduce the temperature to 300°F.
Take the ribs off the rack and set them on a few large sheets of aluminum foil: you're going to wrap the ribs tightly so be generous with the foil. Brush the watermelon sauce on top of the ribs, add another sprinkling of salt and some pepper, and then wrap the ribs in the aluminum foil. Be careful to wrap them well and with a few layers: if the juices start leaking out you can end up with a lot of burned sauce in your pan.
Place the wrapped ribs on a sheet pan and put in the oven. Cook them for 2 ½ to 3 hours (depending on their size and how tender you like them). Remove from the oven, unwrap, and serve.
---
Source: Bring It! by Ali Rosen [Running Press, 2018]