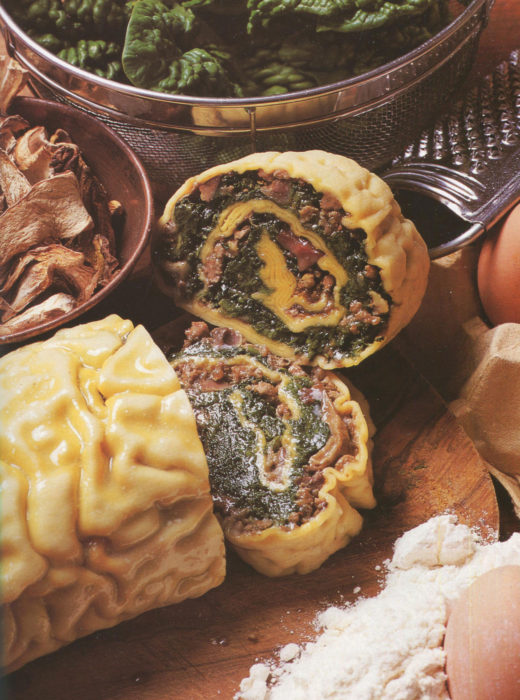 Earlier this week I posted a TBT review of Emilia Romagna, one of the four volumes in the Time Life series Flavors of Italy from 1999. Here spinach, parmesan, chicken livers, sausage, and veal are cooked then combined, and finally rolled up in homemade pasta. The result is a sophisticated dish, complex visually and to the taste as well.
Homemade pasta? The book includes a recipe for pasta for four, made with four cups of flour and 4 eggs. You need about 1 ¼ pounds of fresh pasta dough; you will be forming pasta sheets which you can purchase in your supermarket. In NYC, we are lucky enough to be one mile from Rafetto's where we buy fresh egg pasta once or twice a week. The key here is fresh and not dry pasta.
This recipe involves a lot of steps and cooking. How else can you achieve that look? The spinach, mushroom, and meats are cooked once, then combined into the roll and cooked again in boiling water. Out of the pot, the roll is sliced and those slices — now adorned with butter and cheese — put in a hot oven for a final short burst.
Particularly if you make your own pasta, this recipe will take you the whole afternoon. And reward you for days to come.
---
Rotolo Ripieno or Stuffed Pasta Roll
Yield: serves 4-5
Ingredients:
For the filling:
2 pounds spinach leaves

1 ¾ cups butter

1 cup freshly grated parmesan cheese

7 ounces fresh mushrooms, thinly sliced

1 ⅓ trimmed chicken livers

½ cup fresh Italian sausage meat

1 ¾ cups ground lean veal

Salt to taste
Preparation:
Make your pasta dough and shape into a ball then set aside to rest for 1 hour, wrapped in plastic wrap (cling film). Roll out the dough to a thin, rectangular sheet measuring 12 x 16 inches and cover with a clean cloth or plastic wrap to prevent it drying out.
Wash the spinach leaves thoroughly. Place in a saucepan and cook until tender with just the water left clinging to the leaves. Squeeze out as much liquid as possible, then chop coarsely.
Sauté the spinach in 2 tablespoons of the butter and stir in 1 tablespoon of the parmesan.
In a separate pan, sauté the mushrooms in 2 tablespoons of the butter for 4- minutes.
Poach the chicken livers in a little water. Drain and chop finely.
Melt ¼ cup of the remaining butter in a saucepan. Fry the sausage meat over low heat with the chicken livers and veal. Season with salt and cook for 10 minutes, moistening with a little water if necessary. Spread this mixture over the sheet of pasta dough, stopping about ¼ inch short of the edges. Cover with an even layer of spinach, followed by a layer of mushrooms.
Fold over the edge of one of the longer sides and roll forming a long sausage. Wrap tightly in a large piece of cheesecloth. Tie the gathered ends of the cloth with string.
Place the roll in boiling water in an oval casserole (a rectangular fish kettle is ideal). Simmer gently for 50 minutes.
Remove from the water carefully and set aside to cool a Iittle. Then untie and remove the cloth. Cut into ½ inch thick slices (like jelly/swiss roll) and place in a heated ovenproof dish. Melt the remaining·butter and pour over the slices, then sprinkle with the parmesan. Bake a preheated oven at 475°Ffor 5 minutes to brown if wished.
---
Source: Basque Country by Marti Buckley [Artisan, 2018]