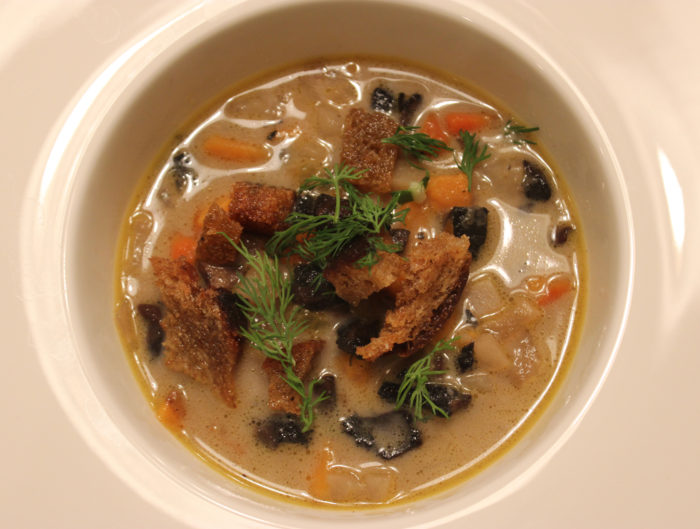 This soup is gargantuan. Most of us have early and devastating soup experiences: the watery slop of grade school, those red cans that are opened up and heated on the stove. Heated, not cooked.
By the time we leave home, we are souped out. And it can be decades before we return to soup. For me, it was almost twenty years and then I discovered gazpacho. If you read this blog, you know of my addiction. Every year I share ten or more gazpacho recipes. I make it from the first tomato in late spring to the final fall splash of red. And, I'll toss in gazpacho recipes of other colors, too. This year, look for green.
Sad, it is now the very dead of winter, with spring over a month away. No fresh tomatoes with flavor. No gazpacho.
I have a new soup friend though: mushrooms. Well, mushrooms and potatoes and carrots and … Winter vegetable soups offer savory salvation after sledding or skiing. This soup, with mushrooms and potatoes, is supposedly Russian in origin. God bless whoever concocted it.
As always, the recipe is here, and it is just a template. Feel free to adapt to your own needs. Can there ever be too much potato?
This soup is very easily to make, almost as simple as opening a can. But better. Yes, much better.4.
Suzi has some of her whole wheat sourdough bread on hand. She made croutons, very buttery, very garlicky. A perfect final touch.
---
Russian Mushroom and Potato Soup
Yield: serves 6 to 8 easily, leftovers can be frozen for mid-week
Ingredients:
5 tablespoons butter, divided
2 leeks, chopped
2 large carrots, sliced
6 cups chicken broth
2 teaspoons dried dill weed
2 teaspoons salt
⅛ teaspoon ground black pepper
1 bay leaf
2 pounds potatoes, peeled and diced
1 pound fresh mushrooms, sliced
1 cup half-and-half
¼ cup all-purpose flour
Fresh dill weed, for garnish (optional)
Those croutons for garnish (essential!)
Preparation:
Melt 3 tablespoons butter in a large saucepan over medium heat. Mix in leeks and carrots, and cook 5 minutes. Pour in broth. Season with dill, salt, pepper, and bay leaf. Mix in potatoes, cover, and cook 20 minutes, or until potatoes are tender but firm. Remove and discard the bay leaf.
Melt the remaining butter in a skillet over medium heat, and sauté the mushrooms 5 minutes, until lightly browned. Stir into the soup.
In a small bowl, mix the half-and-half and flour until smooth. Stir into the soup to thicken. Garnish each bowl of soup with fresh dill to serve.
---
Source: allrecipes.com
Photo Information: Canon T2i, EFS 60mm Macro Lens, F/4.5 for 1/50th second at ISO‑800