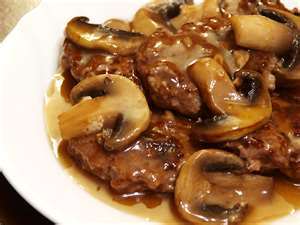 "Salisbury" is one of those vague familiar words. You've heard it before, but no image may jump about in your brain. Just to remind you, Salisbury Plain in England is where Stonehenge is located.
Salisbury Steak is something that has a less distinguished aura. James Villas, author of From the Ground Up, describes Salisbury Steak as an abused dish, one too often made with "soup mixes, bouillon cubes and gloppy canned mushroom gravy." Villas maintains that, when made with care, Salisbury Steak "becomes testimony to the glory of ground meat."
Villas should know. A distinguished author, his latest work, From the Ground Up, presents well over one hundred recipes using ground meats. Yes, in the meat counter the T-bone steaks look much more dramatic than the mounded packages of ground beef. For most of us steak is "better" and ground meats are somehow "lesser." Uh, and cheaper.
Villas' book is directed to correcting that "quality" misconception. Ground meat can be the basis for wonderful dishes. Villas has recipes for sandwiches, turnovers, patties, balls, dumplings, loaves, croquettes, cakes, pies, quiches, soufflés, casseroles, pastas, hashes, chilies, stuffed dishes, and sausages.
Now somewhere, somehow that list is going to include something that will make you smile.
For me, a smile-generator is this Salisbury Steak, which is onion-and bacon filled ground beef, cooked in bacon fat, and topped with a rich, thick mushroom gravy. Add a baked potato to your plate — with some of that gravy — and you have a meal that screams "comfort food." The dish is considered a predecessor to the hamburger.
I could eat Salisbury Steak often. But not as often as its creator James Salisbury wanted people to. Salisbury was a 19th century American doctor who believed that starchy foods and vegetables were responsible for creating poisonous substances in the digestive system. And those substances in turn caused heart disease, cancer, mental illness and tuberculosis.
To avoid the evils of vegetables, Dr. Salisbury created the Salisbury Steak in 1888 and recommended that it be eaten three times a day with lots of water on the side. Salisbury died in 1905. I do not know the cause of death but I do think about hypertension.
Enjoy this dish as often as you like. Compulsive, obsessive cooking disorder can be treated with ice cream.
Salisbury Steaks with Wild Mushroom Gravy
Yield: Serves 4
Ingredients:
2 slices bacon, cut into small pieces
1 ½ pounds ground beef round or sirloin
1 small onion, minced
1 tablespoon Worcestershire sauce
Salt and freshly ground black pepper to taste
2 tablespoons butter
10 small shiitake mushrooms, chopped
2 tablespoons all-purpose flour
2 cups beef broth
Preparation:
In a large skillet, fry the bacon over moderate heat until almost crisp. Drain onto paper towels and remove the pan from the heat, leaving the fat in the skillet.
In a large bowl, combine the beef, bacon, onion, Worcestershire sauce, and salt and pepper. Mix with your hands until well blended. Form the mixture into 4 oval steaks about 1 inch thick. Return the pan to the heat, add the steaks and cook in the bacon fat for about 6 minutes on each side. Transfer the steaks to a heated platter and cover with foil to keep warm.
Melt the butter in the skillet, add the mushrooms, and stir until tender, about 5 minutes. Sprinkle the flour over the top, season with salt and pepper, and stir 2 minutes longer. Add the broth, increase the heat slightly, and stir until the gravy thickens, 3 to 5 minutes.
Serve the steaks with gravy spooned over the top.
Source: From the Ground Up by James Villas with information from Wikipedia