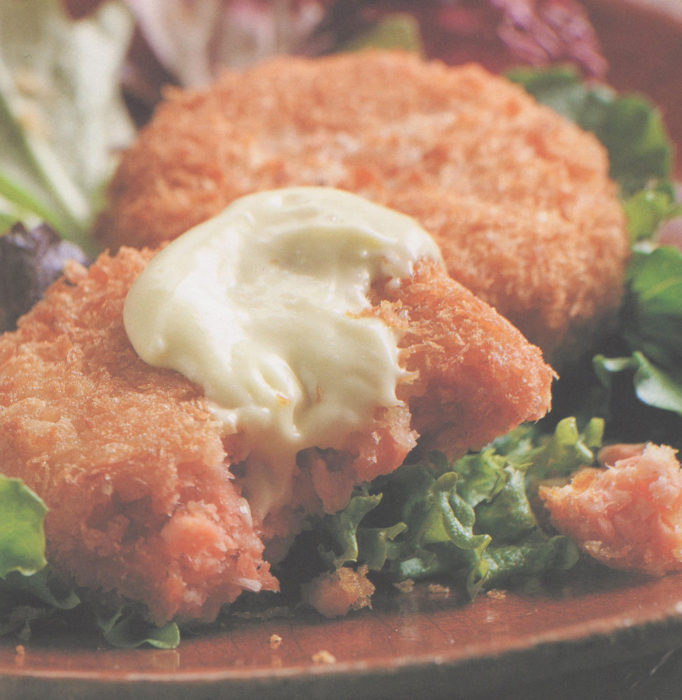 I grew up in an age when public schools were deferential to Catholics and the no-meat-on-Fridays rule. So, every other Friday, we had fish sticks. I was not a good Catholic but I did love the fish sticks.
I don't know why, but golly I was never a fan of salmon cakes. I always wanted the fresh salmon on Day 1, baked or barbequed salmon steaks. The salmon cakes my mom made the next day with leftovers? Well, jeez, those were leftovers.
After a few decades, I've changed. I do like salmon cakes and surely there is no better complement than a wasabi mayonnaise. Yesterday, I did a TBT cookbook review of New Flavors for Appetizers. This recipe comes from that great source.
One salmon cake is an appetizer. Two or three make a great meal. You can go either way, just have plenty of that wasabi mayonnaise ready to go.
---
Salmon Cakes with Wasabi Mayonnaise
Yield: 6 cakes for 3 or 6 servings
Ingredients:
½ pound cooked salmon, preferably wild king salmon
1 tablespoon minced white onion
1 cup panko breadcrumbs
Sea salt and freshly ground pepper
½ cup homemade mayonnaise
1 tablespoon wasabi paste
1 teaspoon honey,
½ teaspoon fresh lemon juice
¼ cup all-purpose flour
1 large egg
Canola oil for frying
Preparation:
Flake the salmon into a bowl, removing any errant bones as you work. Add the onion, ½ cup of the breadcrumbs, ¼ teaspoon salt, pepper to taste, and 1 tablespoon of the mayonnaise and mix gently. Add a little more mayonnaise if needed to bind the mixture.
Using your hands, form the mixture into 6 equal cakes about 3 inches in diameter. Place the cakes on a plate, cover, and refrigerate for about 15 minutes to blend the flavors and become firm.
Meanwhile, in a bowl, whisk together the½ cup mayonnaise, 1 teaspoon wasabi, ½ teaspoon honey, and 1 teaspoon lemon juice. Season to taste with additional wasabi, honey, or lemon.
Pour the oil into a heavy 10-inch frying pan to a depth of ½ inch and place over high heat. While the oil is heating, place the flour, egg, and the remaining½ cup breadcrumbs in 3 separate bowls; lightly beat the egg.
One at a time, dip the salmon cakes in the flour, coating both sides and shaking off the excess. Next, coat the cakes with the egg, allowing the excess to drip off. Finally, coat the cakes with the breadcrumbs, again shaking off the excess. Set the coated cakes on a plate as you work. Carefully add the coated cakes to the hot oil and fry until golden brown on the first sides, about 2 minutes. Using a slotted spatula, turn the cakes over and fry on the second sides until golden brown, about 2 minutes longer.
Transfer the cakes to warmed individual plates. Top each with a dollop of wasabi mayonnaise and serve right away.
---
Source: New Flavors for Appetizers by Amy Sherman [Oxmoor House, 2008]