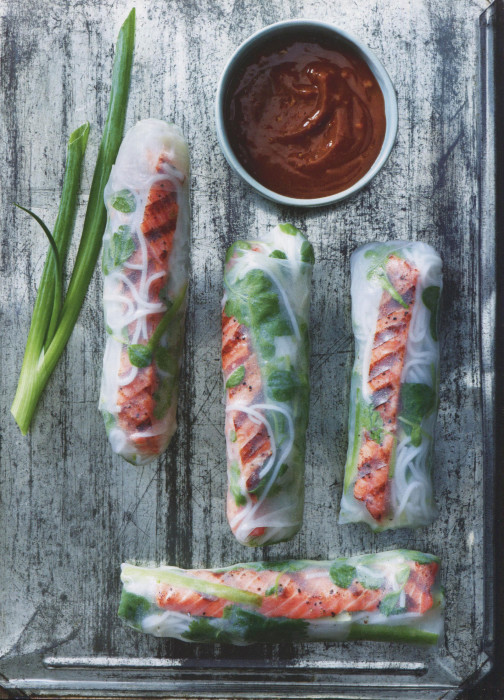 Leftovers. Oh that "L" word. We are embarrassed to say it, let alone serve it.
Not Diane Morgan. In her wonderful new book Salmon she offers a whole chapter on salmon leftovers. And I think this one is the very best. It is so beautiful to behold. And to eat.
You can make this rolls as an appetizer or as a first course. Or, let people have a couple of them with a salad for dinner or brunch. It's versatile and very easy and very delicious.
Inside the rolls you have a free hand for what to include. Herbs or diced vegetables are fine choices. Diane suggests watercress instead of pea shoots. You can add shredded carrots. And mint can replace cilantro.
The recipe calls for rice vermicelli which are thin, round rice-flour noodles that you can find in the Asian section of your supermarket. They are used in soups, salads, rolls like this, and stir-fry. So, don't skimp on just one package.
You can see a review of Salmon here.
---
Salmon Salad Rolls with Hoisin-Peanut Dipping Sauce

Yield: about 5 cups total
Ingredients:

For the sauce:

2 tablespoons chunky natural peanut butter, warmed slightly to soften
¼ cup [60 ml] hoisin sauce
¼ cup [60 ml] water
1 tablespoon Asian fish sauce, preferably Vietnamese nuoc mam
1 teaspoon peeled and minced fresh ginger
¼ teaspoon red pepper flakes
For the rolls:

2 ounces cooked dried rice vermicelli
8 round rice paper wrappers, about 9 inches in diameter
2 ounces pea shoots
1 12-ounce piece grilled or broiled salmon fillet, skin removed, cut into 8 long strips
24 sprigs fresh cilantro
Preparation:

For the dipping sauce, in a small bowl, combine the peanut butter, hoisin, water, fish sauce, ginger, and red pepper flakes and mix well. Cover and set aside until ready to serve. (The sauce will keep in the refrigerator for up to 3 days.)
Bring a small saucepan filled with water to a boil over high heat. Remove from the heat, add the rice vermicelli, and let soak until tender, 5 to 10 minutes. Drain in a colander, rinse under cold running water, drain again, and pat dry.
Have ready a large bowl of warm water, a clean dry linen towel, a platter, and the rice paper wrappers. Dip a wrapper into the water for about 5 seconds, turning to dampen both sides, and then transfer to the towel. You will use one-eighth of each ingredient for each roll. To assemble the first roll, lay a small portion of pea shoots horizontally on the bottom third of the dampened wrapper. Top with a small mound of noodles, spreading them horizontally. Place a salmon strip, two pieces of green onion, and three cilantro sprigs horizontally on top. Roll the edge of the wrapper nearest you over the filling, creating a tight cylinder. Roll it halfway over again and then fold in the sides of the cylinder, envelope style. Continue rolling the wrapper, always keeping the filling tightly packed, into a finished cylinder. Place the roll, seam-side down, on the platter.
Repeat with the remaining rice paper wrappers and filling I ingredients. (It is important to roll the ingredients into a snug cylinder. If it is not snug, the filling will fall apart when you cut or bite into the roll.) Cover the rolls with a damp paper towel 1 and then with plastic wrap and set aside at room temperature 1 for up to 2 hours.
Cut each salad roll in half on the diagonal. Arrange on a platter or on individual small plates. Serve with little bowls of the dipping sauce.
---
Source: Salmon by Diane Morgan [Chronicle Books, 2016]