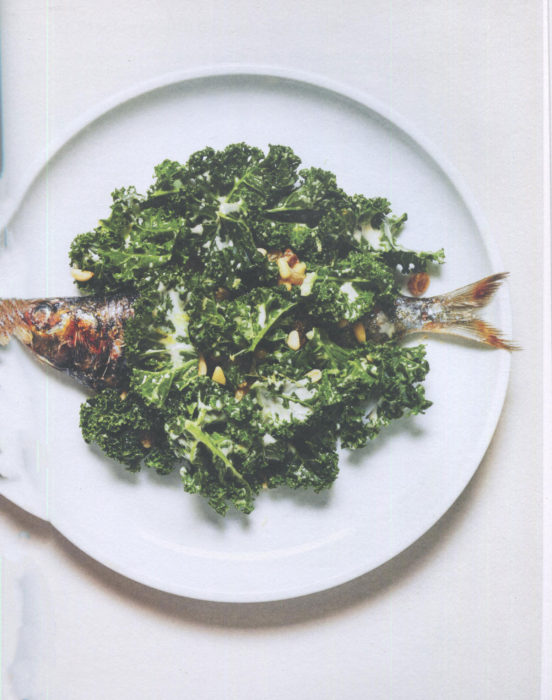 In Field of Dreams, the hero is told: "If you build it, they will come." I think today's version is: "If you eat kale, a lot of kale, eventually you will like it."
My first taste of kale? Ugly? An urge to retch. A sensation that my throat would be etched by leaves that could destroy concrete.
Over time, I've mellowed. At Cooking by Book, many of Suzi's hands-on classes elect to have the Kale Caesar Salad for part of their meal. I like the salad. I really do. The kale texture is a decidedly noticeable alternative to the standard romaine.
Now, I already like pine nuts and in certain circumstance — but never cookies or breads — I like raisins. Sardines. Ah, lovely sardines. Real ones. Fresh sardines. Ideally smelling of the Mediterranean. Not likely to find those in Manhattan, but fresh is still attainable.
This dish can be an appetizer, a side, a salad, or even your main, depending on the proportions. You can easily scale up the amounts. You'll be most happily surprised at how the flavors remain distinctive yet meld into some kale-sardine glory.
This recipe comes from the famed NYC restaurant Estella. Where the chef has a few tricks up his sleeve. You'll need some garlic oil and some Ajo Blanco, which softens the kale leaves. The recipes are included below.
The Ajo Blanco is a gazpacho-like soup that you can serve on its own. See? You get bonus points with this lovely recipe.
---
Sardines with Kale, Pine Nuts, and Raisins
Yield: serves 4
Ingredients:
8 to 12 fresh sardines (5 to 6 inches long), scaled and gutted
5 leaves curly kale, washed, stemmed, and torn into large bite-sized pieces
½ cup (80 ml) Ajo Blanco (recipe below)
Kosher salt
3 tablespoons pine nuts
2 tablespoons golden raisins
1½ teaspoons chardonnay vinegar
1 tablespoon warm water
2 tablespoons Garlic Oil (recipe below)
Chile flakes
Extra-virgin olive oil
Sherry vinegar
Fish sauce
Flaky salt
Preparation:
Rinse the sardines and pat dry, then transfer to a plate and let them come to room temperature while you prepare the salad. Put the kale in a bowl and pour over the ajo blanco. Massage the sauce into the kale for a minute or so, until it softens and becomes more pleasant to eat. Try a bite and add a pinch of kosher salt if necessary.
Roughly chop the pine nuts-just run your knife through them once or twice and set aside. Soak the raisins in the chardonnay vinegar and warm water in a small cup.
Give your sardines a good pinch of kosher salt on each side, as well as inside. Coat them with the garlic oil, then give the whole plate of them a pinch or two of chili flakes.
Heat a large carbon-steel or cast-iron skillet over medium-high heat until hot. Add a tablespoon or two of olive oil, enough that you have a good layer of it so the fish won't stick and heat it. Add the sardines and cook for 1½ minutes. Flip them carefully, with a fish spatula if you have one, and cook until their flesh becomes opaque, another 1½ minutes or so. Just before you remove the fish, splash them with the sherry vinegar and fish sauce, both for flavor and to help release the skin from the pan.
Drain the raisins. Place 2 or 3 fish on each plate and arrange a pile of kale, topped with a sprinkle of the pine nuts and raisins, next to them. Finish the greens with a pinch of flaky salt and serve.
---
Garlic Oil
Yield: ¼ cup
Ingredients:
4 garlic cloves
Kosher salt
¼ cup extra-virgin olive oil
Preparation:
Using a mortar and pestle, mash the garlic with a small pinch of salt until it turns into thin wisps. Stir in the oil. Use right away.
---
Ajo Blanco
Yield: 3 cups
Ingredients:
1½ cups (about 170 g) Marcona almonds
1 cup (240 ml) unsweetened almond milk
2 medium garlic cloves
1 tablespoon plus 2 teaspoons sherry vinegar, or to taste
2 teaspoons fresh lemon juice, or to taste
1½ teaspoons kosher salt, or to taste

¾ cup (180 ml) extra-virgin olive oil
Preparation:
Soak the almonds overnight. Drain and discard the water.
Combine all ingredients except the olive oil in a blender and blend until smooth. With the blender running, stream in the oil. Taste and adjust the seasoning if necessary. The sauce can be covered and refrigerated for a few days.
---
Source: Estella by Ignacio Mattos [Artisan 2018]