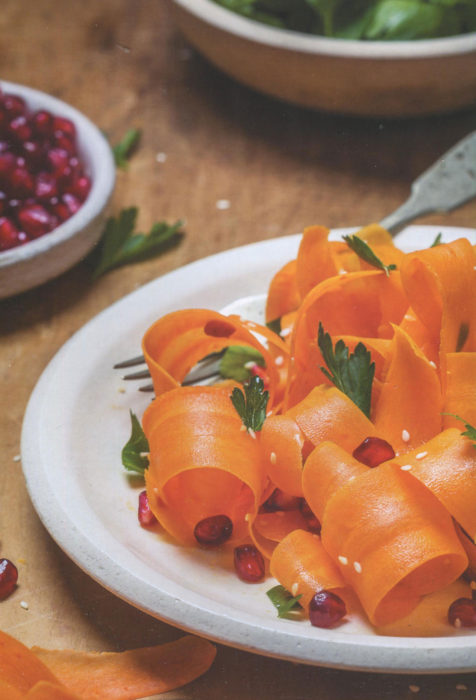 In her lovely cookbook bring it! Author Ali Rosen offers recipes for sharing. The sort of recipes you can bring to a family or neighborhood barbeque. While she suggests this is a cold-weather dish, I think you can enjoy it any time of year. Pomegranate seeds are readily available year-round now. And, by the end of June, we will surely have fresh local carrots in our local farmers markets.
This is salad-without-lettuce. It's an exercise in using your vegetable peeler. And it's a brilliant excursion into using geometry to fashion an intriguing dish. Ali suggests that you can modify the length of the carrot strands to suit your needs. Long ones are beautiful to behold, but can be a tad difficult to eat. So, consider cutting the strands into smaller, fork-friendly pieces.
---
Shaved Carrots Salad
Yield: 6 to 8 servings
Ingredients:
1 pound carrots
1 cup pomegranate seeds
Juice of 1 lemon
1 tablespoon extra-virgin olive oil
1 teaspoon sesame oil
1 teaspoon apple cider vinegar
1 cup chopped parsley
2 tablespoons sesame seeds
Dash of salt
Preparation:
Using a cheese slicer or a vegetable peeler, peel the carrots. Discard the first outer layer of every carrot but then make each thick peel into as long of a strand as you can. You won't be able to use the entirety of every carrot, but when you start to run out of room you can always flip the carrot over to the other side—just make sure to always discard that initial peel.
In a large salad bowl, combine the pomegranate seeds, lemon juice, olive oil, sesame oil, vinegar, parsley, sesame seeds, and salt with the carrots and toss until fully combined.
---
Source: bring it! By Ali Rosen [Running Press, 2018]