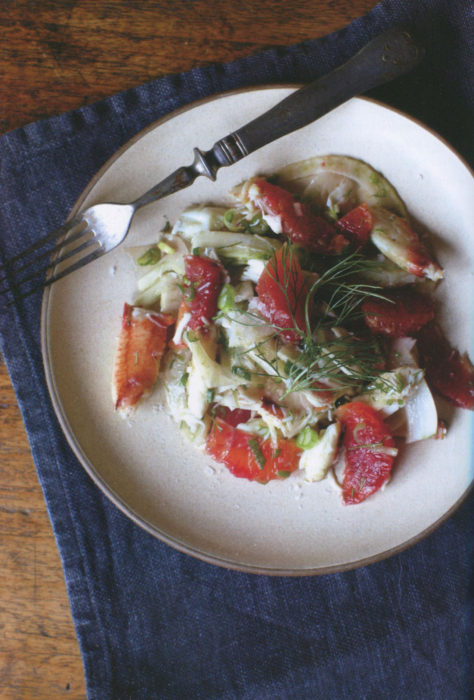 This is a trio of ingredients I would not have expected to see in combination. But, here they are, tossed with a simple vinaigrette, ready for appreciative consumption.
Fennel is an acquired taste. I understand that. But, once acquired, it will be your constant companion. This salad can be a main course, serving 2, or an adornment for 4 of you.
This recipe comes from Crab, a book I just happened to have review today!
---
Fennel Shaved Salad with Crab and Blood Oranges
Yield: 2 to 4 servings
Ingredients:
2 blood oranges or navel oranges
1 large fennel bulb
4 green onions, thinly sliced
¼ cup mild olive oil
2 tablespoons red wine vinegar
Kosher salt and freshly ground black pepper
6 to 8 ounces crabmeat
Preparation:
Cut both ends from one of the oranges, just to the flesh. Set the orange upright on a cutting board and use the knife to cut away the peel and pith (the white part under the peel), following the curve of the fruit. Try not to cut away too much of the flesh with the peel.
Working over a medium bowl to catch the juice, hold the peeled orange in your hand and slide the knife blade down one edge of a section, cutting it from the adjacent membrane. Cut down the other side of the same section and let it fall into the bowl. (Pick out and discard any seeds as you go.) Continue for the remaining sections, turning the flaps of the membrane like the pages of a book. Squeeze the juice from the membrane core into the bowl. Repeat with the second orange.
Trim the root end and stalks of the fennel bulb, reserving some of the feathery fronds. Cut the bulb in half lengthwise and cut out the tough core. Using a mandoline slicer or a large, sharp knife, cut the fennel lengthwise into very thin slices, and put them in the bowl with the orange segments. Mince enough of the fennel fronds to measure 1 tablespoon, reserving 4 of the remaining fronds for garnish, and add the minced fennel to the bowl along with the green onion. Drizzle the oil and vinegar over the mixture and season to taste with salt and pepper.
Pick over the crabmeat to remove any bits of shell or cartilage. If using king or snow crab leg meat, cut it into medium dice. Add the crab to the salad and toss gently to avoid breaking up the orange pieces. Arrange the salad on chilled plates, drizzling the juices from the bottom of the bowl evenly over the salads. Top with the reserved fennel fronds and serve.
---
Source: Crab by Cynthia Nims [Sasquatch, 2016]