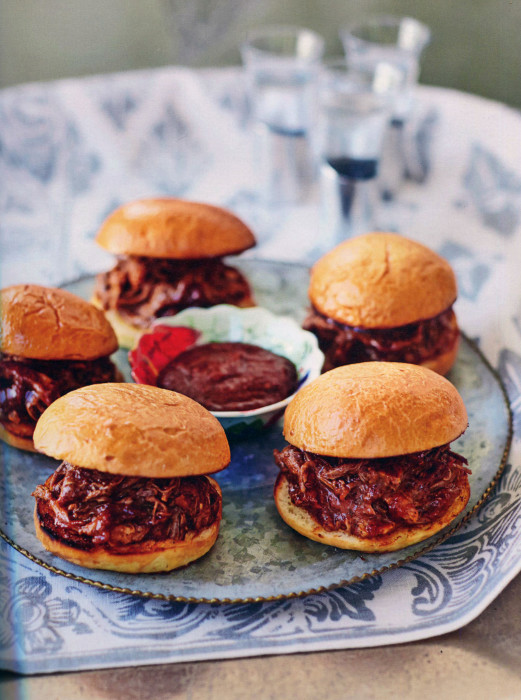 I admit it: I buy wine based on the label. If the label is pretty — a geometric pattern, a flower, a knight on a horse — I do pick up the bottle. I will check the country of origin and I'll look at the grape, but that first impression is irrevocably important.
And, when it comes to recipes, I am equally a sucker for "key words." Oh, something is a "slider?" Well, you have to consider that. It comes with a "sauce?" Well, you have to really consider that. It comes with "Root Beer Espresso BBQ Sauce?" Heck with considering. I'm making it.
Well, Suzi is making it. For our next dinner party, where we love to both please and surprise, we're telling people the meal will be a big salad and a bigger platter of sliders. We'll let them guess the flavors in the sauce. I don't think they have a prayer.
About the sauce. It has 22 ingredients. Getting your kitchen ready to prepare this will take a moment, or five, but golly it seems such fun. Root beer and espresso, but also vanilla and honey and chili powder and on and on. It's just one of those things you know, sooner or later, you have to make.
---
Shredded Beef Sliders with Root Beer Espresso BBQ Sauce

Yield: 16 sliders

Ingredients:

6 fresh thyme sprigs
4 fresh oregano sprigs
2 fresh rosemary sprigs
2 pounds flank steak, cut into 2 segments to fit in your pan
1 tablespoon kosher salt, plus more to taste
¾ teaspoon coarse ground black pepper
2 tablespoons olive oil
2 medium yellow onions, coarsely chopped
1 green and 1 red bell pepper, cored, seeded, and coarsely chopped
15 cloves garlic, peeled
1 teaspoon smoked paprika
½ teaspoon ground cumin
½ cup Root Beer Espresso BBQ Sauce [recipe follows]
16 small brioche buns, cut in half
½ cup (1 stick) unsalted butter, melted
Preparation:

Wrap the thyme, oregano, and rosemary in a doubled piece of cheesecloth and tie it closed with kitchen string to make an herb bouquet.
Season the meat on both sides with the salt and pepper.
Heat the oil in a large soup pot or Dutch oven over medium-high heat for about 3 minutes, until it's I searing hot. Add 1 piece of meat to the pot and sear it until it is deep brown on both sides, 5 to 7 minutes per side. Remove the meat from the pan and sear the second piece of meat. Leave the second one in the pot and return the first piece, too. Add the herb bouquet, onions, green and red bell peppers, garlic, paprika, cumin and enough water to just cover the meat and vegetables. Bring the water to a boil over high heat, reduce the heat to low, cover the pot, and simmer until the meat can be gently torn apart with a fork, about 2 hours. Turn off the heat and let the meat cool to 1 room temperature in the liquid.
Lift the meat out of the liquid and shred it back into the pot with the cooking liquid. (I like to go at it with kitchen shears.) Remove the herb bouquet and stir j in the barbecue sauce. Season with salt to taste.
Brush the insides of the buns with the melted butter and toast the insides only under the broiler. Scoop ¼ cup of the barbecue beef onto each bun and serve.
---
Root Beer Espresso BBQ Sauce

Yield: 3 cups

Ingredients:

2 tablespoons olive oil
1 yellow onion, roughly chopped
4 teaspoons kosher salt, plus a pinch of salt (or more to taste)
8 garlic cloves, roughly chopped
¼ cup distilled white vinegar
2 vine-ripened tomatoes, chopped
1 cup canned or bottled tomato sauce
½ cup yellow mustard
1 packed cup light or dark brown sugar
¾ cup root beer
2 tablespoons balsamic vinegar
2 tablespoons molasses
2 teaspoons pure vanilla extract
3 tablespoons honey
1 tablespoon finely ground espresso
1 teaspoon black pepper, plus more to taste
1 teaspoon ground paprika
1 teaspoon chili powder
½ teaspoon cayenne pepper
½ teaspoon ground allspice
¾ teaspoon garlic powder
½ teaspoon ground cumin
Preparation:

Combine the oil and onion in a large saucepan over medium-low heat.
Sprinkle with 1 teaspoon of the salt and cook about 10 minutes, until the onion is tender and translucent, stirring often so the onion doesn't brown.
Add the garlic and a pinch of salt and sauté for 1 to 2 minutes, until the garlic is fragrant, stirring constantly so it doesn't brown.
Add the white vinegar, increase the heat to medium-high, and cook for 1 minute, scraping up the brown bits on the bottom on the pan.
Toss in the tomatoes and cook, stirring occasionally, until they break down, about 5 minutes.
Add the tomato sauce and mustard and bring the liquid to a simmer.
Stir in the brown sugar and cook for about 3 minutes, until it dissolves.
Pour in the root beer, balsamic vinegar, molasses, and vanilla. Bring the liquid to a boil, reduce the heat and simmer for 15 to 20 minutes; you're cooking to bring out the sweetness of the tomatoes.
Set aside to cool slightly. Transfer to the jar of a blender and puree until smooth. Return the puree to the saucepan.
Stir in the honey, along with the espresso, black pepper, paprika, chili powder, cayenne, allspice, garlic powder, cumin, and the remaining salt. Simmer on low, covered, for 40 minutes to 1 hour, until the sauce is a deep reddish brown. Taste, and add more seasoning as needed. It will keep in the refrigerator in an airtight container for weeks.
---
Source: My Life on a Plate by Kelis [Kyle 2015]