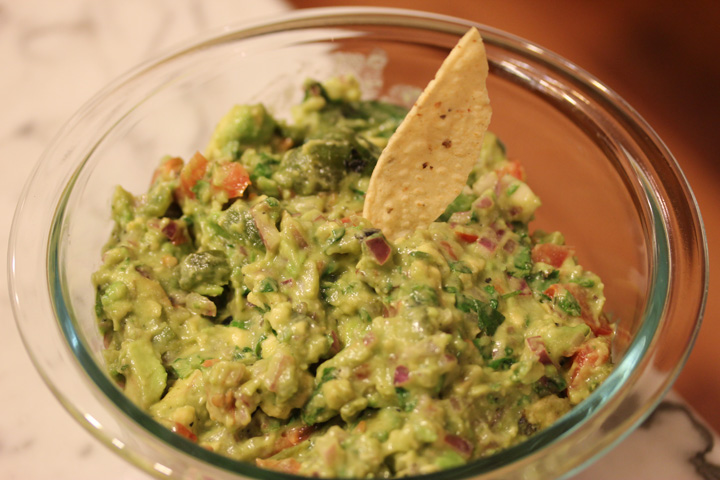 What makes a great guacamole? Brian and I don't have a single favorite, but we do like a spicy version that uses hot pickles and the pickle juice instead of jalapenos. The pickles are southwestern and as incendiary as any jalapeno, just sweeter.
In time for Super Bowl parties, Brian and I are happy to present you with a different guacamole, one designed to let you enjoy the full avocado flavor. This guacamole is really simple to prepare, ideal for a party day. More importantly, it has a very, very pure flavor. By not using an overwhelming amount of pepper or cilantro, this guacamole lets the very pure flavor of the avocado dominate. The result is a guacamole that is smooth, subtle, and delightful to just munch away on.
For chips, for nachos, for any Mexican food you concoct, this guacamole is refreshingly different.
This recipe calls for roasting your peppers. Here's the quick way to accomplish that, assuming you have a gas burner or grill. Wash the peppers, place them on the grill and put the heat on high. Turn the peppers every minute or so, and keep roasting until they are blackened on the outside. Place the peppers in a bowl and seal the bowl for about 10 minutes to steam.
Remove the peppers from the bowl, and wipe away the blackened outer skin — whether you should or can rinse under water to help this process is the subject of conversation or outright argument. We don't rinse. The peppers are ready to be diced. The more inner seeds you retain at this point, the hotter your guacamole will be.
Really Simple Guacamole
Yield: 3 cups
Ingredients:
1 red onion, finely diced
2 cloves garlic, finely diced
Juice of 2 lemons
2 Poblano peppers, roasted, and then diced
1 jalapeno pepper, roasted, and then diced
3 avocados, skins and pits removed, then diced
2 Roma tomatoes, finely chopped
¾ cup cilantro, finely chopped
Salt to taste
Preparation:
Place the onion and garlic in a bowl. Add the lemon juice and stir to coat.
Add the peppers, then the avocadoes. Using a pastry cutter, mash the mixture until he avocados are the size you want.
Add the tomatoes and cilantro.
Add salt to taste, at least 1 teaspoon and very likely up to 1 tablespoon.
Notes:
The Roma tomatoes are a terrific idea, primarily for color. Unlike regular tomatoes, the Romas are very meaty and will not "weep" over time.
You can add chili powder or pepper if you wish for more heat, but remember the goal of this recipe is to let you enjoy the pure avocado flavor.
Source: Suzen O'Rourke