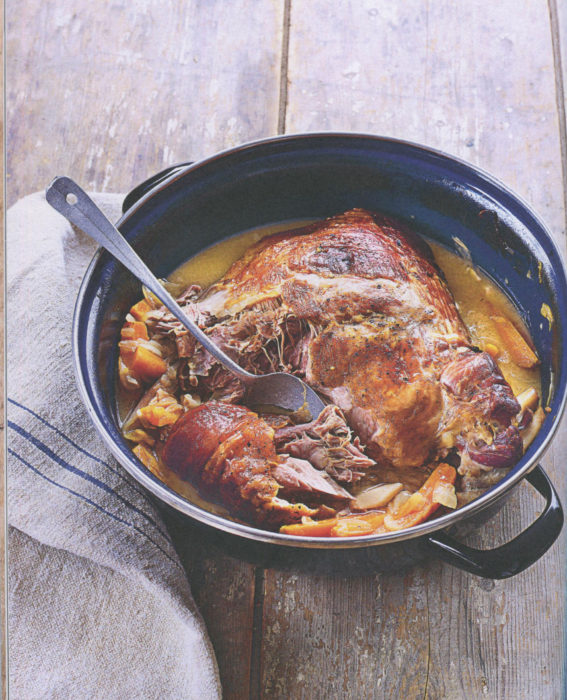 It's summertime and you really don't want to spend all day in the kitchen. But while you drift around in your pool and play some tennis or watch the kids just toss water balloons, your oven can be working away for you.
When the sun has set and the temperature begins to dip, a warm roast with a cool and very minty sauce is simply refreshing. You let this cook for hours transforming a lamb shoulder into something very tender and abundant in flavor. You can actually let this cook overnight or start it very early in the morning. Cooking longer is just fine.
Do check the roasting pot from time to time. You can always add some additional wine or stock to keep the braising process here alive and well.
Oh, you don't eat lamb? Americans eat 217 pounds of meat per person per year. Of that 217, just 1 is lamb. So, you are not alone in thinking that eating lamb would be like consuming Bambi or Thumper. Think again. Lamb is very, very tasty. And cooked into oblivion and tenderness, lamb is exceptional.
---
Slow Lamb with Yogurt Mint Sauce
Yield: serves 4 to 6
Ingredients:
For the lamb:
4 pounds shoulder of lamb
Salt and freshly ground black pepper
2 tablespoons olive oil
3 onions, sliced
4 carrots, quartered lengthwise
1 garlic bulb or 8 to 10 cloves, peeled and left whole
1 bay leaf
1 cup white wine
1 cup vegetable, beef or chicken stock
For the sauce:
3 tablespoons plain yogurt
2 sprigs of fresh mint, leaves only
Sea salt and freshly ground black pepper
Preparation:
Preheat the oven to 250°F.
Season the lamb well with salt and freshly ground black pepper.
Heat the olive oil in a large roasting pot on high heat. Add the lamb joint to the roasting pot and fry for about 15 minutes, turning regularly, until browned all over. Turn down the heat.
Add the vegetables, garlic cloves, and bay leaf around the meat, then pour in the wine and stock. Bring to a boil before placing the casserole in the oven. Cook for up to 7 hours. (Although the meat will be cooked after about 5 hours, it's best left for the full time if possible.) Turn the meat halfway through cooking.
Remove the pot from the oven and transfer the lamb and vegetables to a serving dish. Cover with foil and return to the oven to keep warm.
To make the sauce, skim off any excess fat from the liquid in the pot, then place the pot on the stove top on medium heat. Boil until the liquid has reduced by about a quarter, then add the yogurt and mint leaves, stirring well. Reduce the heat so the sauce comes to a simmer, remove the mint leaves, and add seasoning if needed.
Pour the sauce into a gravy pot and serve the lamb with mashed potatoes and a steamed green vegetable.
---
Source: The Goodness of Garlic by Natasha Edwards [Kyle, 2016]