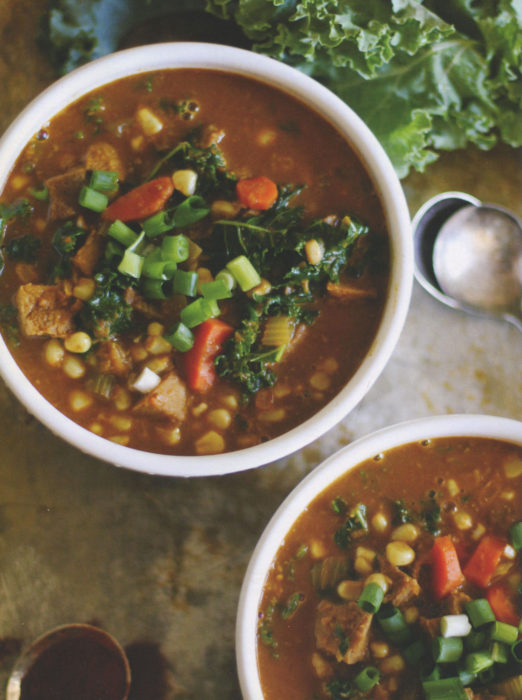 Great soup does not come from a can. It simply cannot. You need a pot or a Dutch oven and some time. Fresh ingredients are a boon. You don't need any of those preservatives, listed on the side of that soup can, because you are eating this the day it is made, not six months after it is manufactured.
A chowder is a rich soup, the richness often coming from the addition of cream. That cream may form a white sauce in which you float chunks of veggies and protein. The veggies must, of course, include potatoes. The marriage of potato and chicken with corn in cream is magically.
This recipe comes from cookbook Let Them East Kale! by Julia Mueller. I posted a review in 2014 and I use the book regularly. Feel free to amend the recipe with more or less of the veggies, perhaps adding some parsnips. Turkey instead of chicken? Why, there is your Friday-After-Thanksgiving special meal.
---
Smoked Paprika Chicken Corn Chowder
Yield: serves 4-6
Ingredients:
2 tablespoons grapeseed or olive oil
1 large yellow onion, chopped
2 carrots, peeled and chopped
2 stalks celery, chopped
6 cloves garlic, minced
4 ears white sweet corn, kernels removed quart chicken broth
1 cup cream (or coconut milk)
2 tablespoons Hungarian paprika
2 tablespoons brown rice flour (or regular flour)
½ cup water
1 ½ pounds chicken, chopped into cubes
6 cups tightly packed kale leaves, chopped
Preparation:
Cut a red cabbage in half, remove and discard the and thinly slice both halves.
Peel a carrot and chop it into thin, small matchsticks.
Remove the leaves of ditto kale from the stems (saving the stems for cooking or smoothies) and thinly slice the leaves.
Using the fine side of a box grater, finely grate the fresh peeled ginger.
In a small bowl, whisk together the olive oil, lime zest, lime juice, grated ginger, garlic, and salt. Add the vegetables to a large mixing bowl and pour the dressing on top.
Mix well until everything is coated in the dressing.
Serve on barbecue or deli sandwiches, on tacos, or as a side dish!
---
Source: Let Them Eat Kale! By Julia Mueller [Skyhorse 2015]