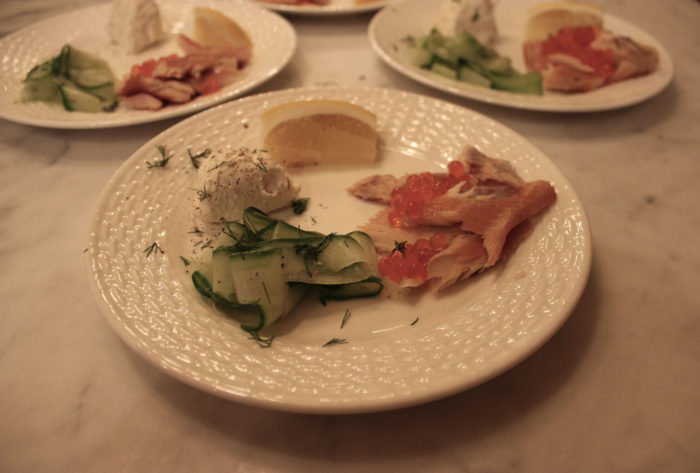 Irish food maven Darina Allen has a "new" book out. Simply Delicious has recipes from her first two books in the late 1980s. Those were slim paperbacks that were immediate successes. Here, the recipes have been refreshed a tad and, of course, now are complemented with wonderful photographs.
We made this salad for a dinner party this weekend. There were smiles around the table. The horseradish cream here can be employed in multiple dishes. I had today on the leftover lamb chops from Saturday!
---
Smoked Trout, Cucumber and Horseradish Cream Salad
Yield: serves 8
Ingredients:
For the trout:
1 to 2 cucumbers
Sprinkle of white wine vinegar
Pinch of granulated sugar
1 teaspoon freshly chopped fennel or 2 teaspoons freshly chopped dill weed, plus more to garnish
8 smoked trout fillets
Sea salt and freshly ground black pepper
For the horseradish cream:
1 ½ to 3 tablespoons peeled and grated horseradish
2 teaspoons white wine vinegar
¼ teaspoon lemon juice
¼ teaspoon mustard
3 teaspoons salt
Pinch of freshly ground black pepper
1 teaspoon granulated sugar
1 cup softly whipped cream
For the garnish salmon caviar (optional) and/or lemon wedges
Preparation:
First, make the horseradish cream: In a bowl, combine the grated horseradish with the vinegar, lemon juice, mustard, salt, freshly ground pepper, and sugar. Fold in the softly whipped cream, but do not overmix or the sauce will curdle. The sauce will keep for 2 to 3 days in the refrigerator and may also be served with roast beef. Cover the sauce tightly so that it doesn't pick up flavors in the refrigerator.
Thinly slice the cucumbers (with the peel on). Sprinkle with a few drops of vinegar and season with sugar, salt, and a bit of freshly ground pepper, and stir in the fennel or dill weed.
Assemble the salad: Lay a fillet or a few chunks of smoked trout on each plate. Add some cucumber salad and a spoonful of fresh horseradish cream. Top with salmon caviar, if using. Garnish with lemon wedges and extra fennel or dill weed.
---
Source: Darina Allen Simply Delicious [Kyle, 2018]