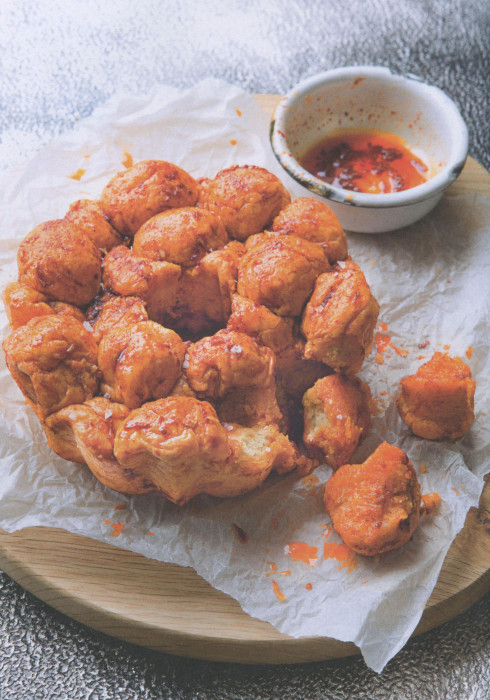 I recently posted a review of The Kitchen Shelf, a new and clever book for "us." Many of us have not attended culinary school, have very busy lives, and need some assistance in the kitchen. What should we buy to stock our kitchen? What can we cook that is quick and easy yet delicious? How can our desires and expectations be satisfied in our lives?
The Kitchen Shelf suggests you stock your panty with just a relative handful of ingredients. Then use them carefully and creatively. I love Monkey Bread. Little balls of dough rubbed in cinnamon sugar, stuffed into a pan, and baked into a gooey mess that makes breakfast the best meal of the day.
Well, consider an alternative. Goodbye cinnamon sugar. Hello garlic and paprika. No, I would not, would never not, have this for breakfast. But at dinnertime, well, these flavor bombs are idea mates for soups and stews and certainly curries. It's a clever idea, a solid example from The Kitchen Shelf.
---
Smoky Garlic Monkey Bubble Bread

Yield: serves 10

Ingredients:

For the bread:

5 tablespoons butter, plus extra for greasing
1 cup milk
Scant 4 ¼ cups all-purpose (plain) flour, plus extra for dusting
1 ¼ ounce sachet active dry (fast-action) yeast
1 teaspoon superfine (caster) sugar
1 teaspoon salt
1 egg
Olive oil, for oiling and drizzling
For the coating:

1 ½ sticks butter, melted
2 cloves garlic, finely chopped
2 teaspoons smoked paprika
Preparation:

Lightly grease a 15-cup bundt or cake pan with butter.
Put the butter and milk into a small pan and warm over low heat for 2-3 minutes to just above room temperature until the butter has melted, then remove from the heat and cool to lukewarm.
Mix the flour, yeast, sugar, and salt together in a large bowl. Whisk the egg into the milk mixture, then stir into the flour.
Mix until it forms a dough. Knead on a floured work counter for about 10 minutes, or until the dough is smooth and elastic. Put the dough in a clean, oiled bowl, cover with plastic wrap (cling film), and let rise in a warm place for 1 hour, or until doubled in size.
Line a baking sheet with parchment (baking) paper. Cut the dough in half, then pinch each half into about 25 pieces. Roll each piece into a small ball, about the size of a ping-pong bail, and put on the parchment paper, covering with a dish towel as you go, to prevent them drying out.
Put the melted butter into a small bowl with the garlic and paprika. Dip 1 ball into the butter and put in the prepared pan. Repeat with the other balls, until they are evenly spread across the whole pan. Drizzle with any remaining butter. At this point, you can chill the dough in the refrigerator for a few hours or overnight, or continue to cook.
Whether chilled or not, cover the bundt pan in plastic wrap and let rise again for 30-45 minutes until the balls have puffed up.
Meanwhile, preheat the oven to 350°F.
Once the balls have risen, bake in the oven for 30-35 minutes, or until the butter is bubbling at the sides and the dough is golden. Cool in the pan for 5 minutes, then put a plate over the top, tip upside down to loosen, and serve.
---
Source: The Kitchen Shelf by Eve O'Sullivan and Rosie Reynolds [Phaidon, 2016]