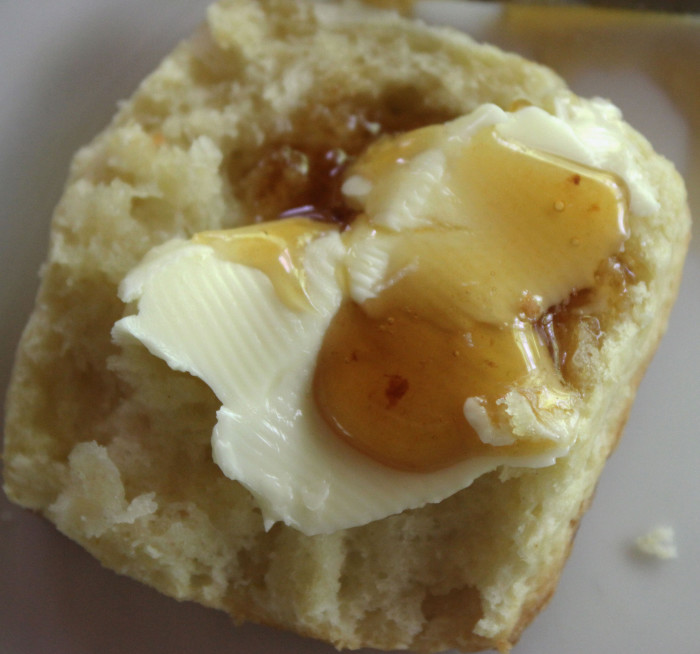 Breakfast is that meal we often skip. And if we are not skipping, then too often we are opening up some cardboard container racing to a quick start to a busy day. Suzen and I avoid the cardboard containers, but we do get a cardboard cup each weekday morning from the Starbucks on our block. According to our FitBit, it is just 100 steps away.
On weekends, though, the nearest Starbucks is 12 miles away. In our weekend retreat, we do have a wonderful espresso machine — which we fuel with Starbucks products. And to eat on weekends? We rarely make a full breakfast: pancakes or waffles or omelet. But a biscuit, simple yet grand, a biscuit is inviting to us both.
From One Bowl Baking comes this recipe for biscuits with a sweet/sour combo. The sweetness is a topping of turbinado sugar. The sour comes from using sour cream, and not milk or buttermilk, for the dairy component.
The resulting biscuit does have a tang, but it is muted and lovely. It pairs well, as you can see, with a dab of butter and your favorite honey. Merely add espresso and you will be delighted. And you won't miss Starbucks on this particular morning.
---
Sour Cream Breakfast Biscuits

Yield: about six 3½ inch biscuits

Ingredients:

Biscuit Batter:

1 ½ cups all-purpose flour
4 ½ teaspoons granulated sugar
1 tablespoon plus 2 ¼ teaspoons baking powder
½ teaspoon salt
6 tablespoons (3 ounces or 85 grams) unsalted butter, cold, cut into Winch pieces
1 large egg yolk
¾ cup sour cream
Topping:

2 tablespoons heavy cream
2 tablespoons turbinado sugar
Preparation:

Place an oven rack in the upper-middle position. Preheat the oven to 375°.Line a baking sheet with parchment paper.
To make the batter, in a large bowl, combine the flour, sugar, baking powder, and salt.
Cut the butter into the flour mixture until it looks like coarse cornmeal, but is not clumping up. Stir in the yolk and sour cream until completely combined.
Roll out the dough on a lightly floured surface to about 1-inch thick. Using a floured 2½-inch round cookie cutter [or drinking glass] to cut out biscuits and place them evenly on the pan. Reroll dough if needed.
To make the topping, brush the tops of the biscuit with the cream and sprinkle with the turbinado sugar.
Bake until light golden and just firm, about 20 minutes. Let the biscuits cool on the pan for 5 minutes, then transfer to a wire rack to cool. Serve warm or at room temperature.
Source: One Bowl Baking by Yvonne Ruperti

Photo Information [bottom shot]: Canon T2i, EFS60mm Macro Lens, F/ 5.6 for1/60thsecondatISO‑1250