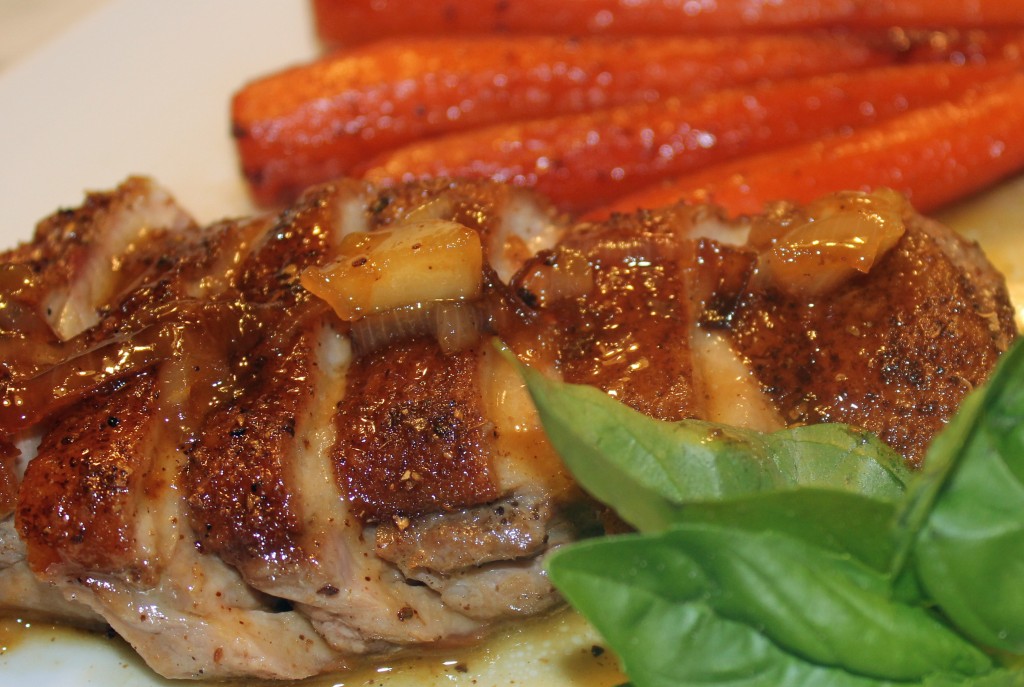 Our honey-based menu for the spring holidays continues here with these spiced duck breasts. Duck is inherently rich and can support many flavor adornments. Here, the adornments are an array of spices that form a crust on the duck. Your first bite will offer a flavor explosion. You'll enjoy all the bites.
Eric Rupert suggests serving these with Cumin and Honey Baby Carrots, which I blogged yesterday. You can go down other veggie routes too. Mashed potatoes topped with some of the duck sauce is a wonderful option.
Spiced Crusted Duck Breast
Servings: serves 4 
Ingredients:
½ teaspoon ground star anise
½ teaspoon ground cumin
1 teaspoon ground coriander
½ teaspoon ground white pepper pinch cayenne
4 (6- to 8-ounce) boneless duck
breast halves, trimmed
1 tablespoon canola oil
2 shallots, peeled and thinly sliced
1 tablespoon honey
½ cup orange juice
¼ cup lemon juice
2 tablespoons butter
Fine sea salt
Preparation:
Stir together the star anise, cumin, coriander and white pepper in small bowl. Season the duck breasts on both sides with salt, then crust the skin side of the duck breasts with the spice mixture.
Divide the canola oil into 2 sauté pans and heat over medium heat. When the pans are hot, gently place two duck breasts, skin side down in each pan. Lower the heat to medium low and cook until skin is golden brown and crispy, about 12-15 minutes. Turn the duck breasts over and continue cooking for 3-4 minutes for medium rare. Transfer the duck breasts to the cutting board to rest. Return the pan to the stove.
Over medium heat, divide the shallots between the pans and cook until soft. Add the honey, orange juice and lemon juice and reduce by half. Finish the pan sauce by whisking in the butter, seasoning to taste with salt then combine the sauce into one pan.
Thinly slice the duck breasts crosswise. Place the duck slices on the plates, and spoon some of the glaze over the duck.
Source: Avec Eric by Eric Rupert