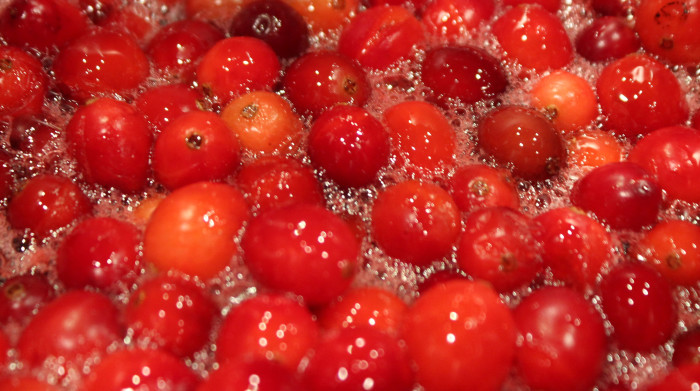 They are not just for Thanksgiving or Christmas any more. Cranberries bring a bright, tart flavor to whatever you choose to adorn, mix, or bake with.
This recipe is from The Great American Cookbook, the wonderful state-by-state array of recipes compiled 50 years ago by Clementine Paddleford. Mention "cranberries" and surely "Maine" pops into mind. This recipe is a classic combination of cranberries and orange, frosted with notes of cinnamon and clove.
What is a compote? It's another French creation, a mixture of fruit and sugar syrup, that first appeared in 17th century. What to do with it? Eat it. In a bowl. By itself. Or, you can have ice cream or yogurt in the bowl. Or, you can top off angel food cake or pound cake. Or, you can serve it as a side to roast poultry. This compote paired with dark, moist turkey meat is an experience that should not deny yourself.
Spiced Cranberry Orange Compote
Yield: serves several depending on
Ingredients:
1 cup water
2 cups sugar
5 whole cloves
2 2-inch cinnamon sticks
3 large seedless oranges, peeled, white pith complete removed, and sliced ½ inch thick
4 cups cranberries, fresh is best, defrosted will suffice
Preparation:
Combine the water, sugar, cloves and cinnamon stick in a large saucepan. Place over medium-high heat, bring to a boil, and boil for 5minutes. Add the orange slices, lower the heat to medium-low, and simmer for 3 minutes.
Add the cranberries and continue to simmer for 5 to 8 minutes, until the liquid becomes syrupy and the cranberry skins pop open. Pour into a bowl, cover and refrigerate for at least 1 hour.
Serve topped with whipped cream, or use as a topping for cake or ice cream.
Source:  The Great American Cookbook by Clementine Paddleford
Photo Information: Canon T2i, EFS 60 mm Macro Lens, F/5 for 1/60th second at ISO-1250