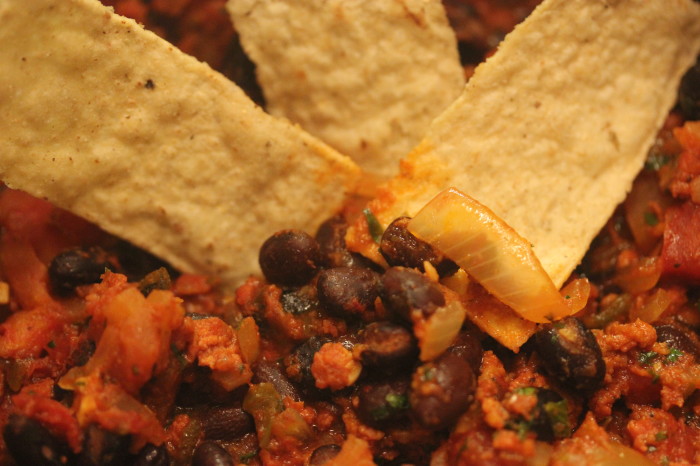 The countdown to Super Bowl XLVIII [aka 48] is upon us. In less than a week, it will be the Broncos and Seahawks playing in a very, very cold stadium. Suzen and I, given the ticket prices of $2000+, will sadly not be in attendance. We will be in our front room, warm, glued to a big screen, and with chips in our hands.
You can make a plate of nachos. Or, or, you can make this dip, keep it warm on the stovetop, and bring it to the game whenever you want. This dip idea comes from the lovely book Delicious Dips by author Diane Morgan. As with all her recipes, this one works perfectly. Delicious Dips is now 10 years old and every bit as delightful as that first bite.
And, as with a good dip trip, you can modify this to meet your own needs. Want more heat? Add more jalapeno. What different heat? Go with a diced, roasted poblano, or two of them if you are brave. Red beans can substituted for black. If oregano is not your keenest taste, then you can revert to traditional cilantro. Scallions can substitute for the yellow onion. In short, open your refrigerator, stick your hand in and grab away.
Deploy with taco chips or those  tortilla strips or even pita chips. It's your Super Bowl Party, after all, and all that matters is Payton getting that second ring.
Spicy Black Bean Dip with Chorizo
Yield: 3 cups, serving ?
Ingredients:
1 tablespoon pure olive oil
¼ pound bulk pork chorizo
½ medium yellow onion, diced
1 clove garlic, minced finely
1 jalapeno chili, including seeds and ribs, finely minced
 ¾ teaspoon ground cum
1 can [14.5 ounces] dice tomatoes in juice
1 can [15 ounces] black beans, drained and rinsed
2 tablespoons minced fresh oregano
Kosher salt to taste
Freshly ground black pepper to taste 
Preparation:
In a large sauté pan over medium heat, warm the oil and swirl to coat the pan.
Add the chorizo and sauté, stirring constantly and using the side of a spatula to break up the chunks, until cooked through, about 3 minutes. Add the onion, garlic, jalapeno and cumin. Sauté until the onion is softened, about 2 minutes longer.
Add the tomatoes, including the juice form the can, and simmer until most of the juice evaporate, about 3 minutes longer. Add the beans and fresh oregano. Sauté until heated through, 2 minutes longer.
Taste for seasoning and add a little salt or pepper if desired. Transfer to a warmed serving bowl and enjoy on the spot.
Source: Delicious Dips by Diane Morgan
Photo Credit: Canon T2i, EFS 60MM Macro Lens, F/2.8 at 1/100th second and ISO 3200