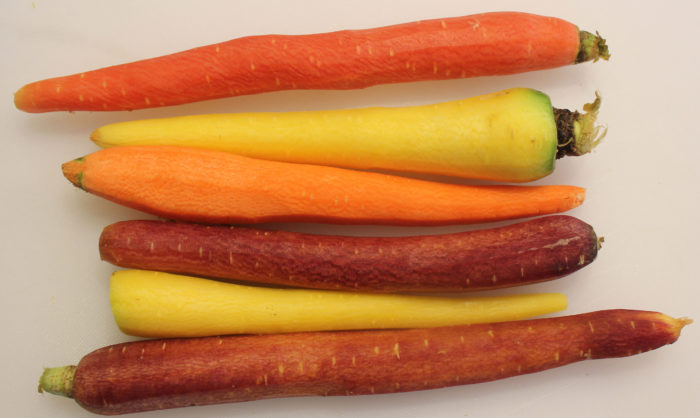 Carrots. We think of carrots as those little things on the side. Cut into strips and dipped into blue cheese. Shaved into a salad. Always a side component, never the star.
Not here. Not here at all. From the lovely Vegan in 7, which I just review, here's a way to make carrots the primary ingredient. Here's winter stew that can remove the chill any day of the week. The flavors here offer the scents of North Africa: harissa, chickpea and olives. Harissa itself is an amalgam of cumin, coriander, and caraway. This stew bubbles with aroma.
And this Sunday, Superbowl Sunday, instead of stuffing yourself with a meat-based chili, how about enjoying this stew quarter by quarter. You can make it quickly then let it sit on the stove and simmer away. For refills, you can dash to the kitchen, refill, and return to the sofa.
Don't want to miss the Superbowl commercials? There may be repeats in the third and fourth quarters. And, the best commercials are always in the first half. Almost always.
This book is new and will on your store shelves in February. You can, of course, pre-order online.
---
Spicy Carrot & Chickpea Stew
Yield: 12 smallish muffins
Ingredients:
1 medium onion, chopped
2 tablespoons harissa paste, or a bit less to your spice profile
14-ounce can chopped tomatoes
6 medium carrots, cut into ½-inch slice
¾ ounce fresh cilantro leaves and stems, chopped separately
2 ½ cups cooked chickpeas [2 14-ounce cans, drained and rinsed]
3 ounces pitted olives, whole
Preparation:
Cook the onions in a pan over medium heat with a splash of water until they are soft, but not brown, about 5 to 10 minutes. Add the harissa paste, ½ teaspoon salt and a good grinding of black pepper. Mix well, then add the tomatoes, carrots, chopped cilantro stems, and 1 cup water. Bring to a boil, then reduce the heat to low and simmer for 10 minutes until the carrots are tender.
Add the chickpeas and olives and cook for an additional 5 minutes. Taste for seasoning and add more salt or pepper if needed. If you like it hot, add another ¼ teaspoon (or more) of harissa paste. Stir again and serve scattered with the cilantro leaves.
---
Source: Vegan in 7 by Rita Serano [Kyle, 2018]