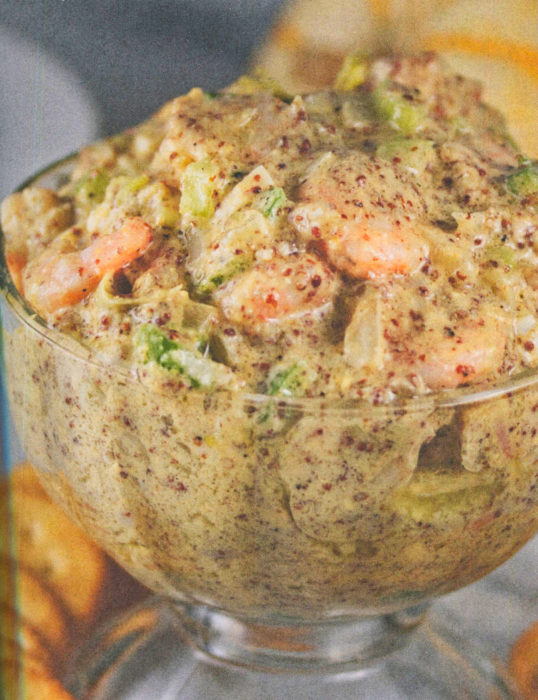 On Tuesday I gave a belated, but most positive, cookbook review for Acadiana Table. The book arrived in 2013 and I hope you've had a chance to scan through it during your bookstore meanderings. Written by George Graham, a native of South Louisiana, the book is brimming with colorful and flavorful wonders. The classics are all here, beginning with a two-page primer on making that most necessary staple: deep, dark roux.
Beyond those classics, you do see how Cajun and Creole cuisine keeps evolving. Here's an example: extending the classic remoulade sauce by adding shrimp and spice. The spice comes from horseradish, Creole mustard and hot sauce.
You can, of course, use this as a dip. But it has enough body to make a lovely salad dressing, too. After all, don't they marry shrimp and tomato is Louisiana?
The suggested dip platform is Ritz crackers. When was the last time you went Ritz?
---
Spicy Creole Shrimp Dip
Yield: 6 cups
Ingredients:
4 large eggs
2 pounds (900 g) small (61/70 count) shrimp, peeled and deveined
1 jar (16 ounces) Creole mustard or other coarse mustard
1 jar (5 ¼ ounces) prepared horseradish
1 cup canola oil
1 tablespoon freshly squeezed lemon juice
1 cup finely diced yellow onion
1 cup (150 g) finely diced green bell pepper
1 cup (120 g) finely diced celery
Kosher salt and freshly ground black pepper
Dash of hot sauce
Ritz crackers
Preparation:
Fill a large pot to the halfway point with cold water and add the eggs. Turn the burner to high and bring the water to a boil and then immediately turn off the heat. Cover the pot and let sit for 12 minutes. Remove the hard-boiled eggs from the water (keep the water in the pot) and rinse the eggs under cold water. Peel the eggs and dice. Place the diced eggs in a bowl, cover, and refrigerate.
Bring the same pot of water back to a boil over high heat. Add the shrimp. Bring the water back to a boil and cook for about 5 minutes. Remove one of the larger shrimp and test for doneness. If fully cooked, turn off the heat. Immediately drain the shrimp in a colander. Rinse with cold water to stop the carryover cooking, drain again, and pat with paper towels to dry. Place in the refrigerator to cool.
Combine the Creole mustard, horseradish, canola oil, and lemon juice in a large bowl. Add the onions, bell pepper, and celery and stir. Add the diced eggs and stir to distribute evenly throughout the mixture. Add salt, pepper, and hot sauce to your taste.
Make sure the shrimp are dry or your dip will be watery. Add the shrimp and stir to distribute evenly throughout the mixture. Cover and refrigerate until chilled (or up to overnight).
For serving, fill a bowl with the dip and place on a tray surrounded by Ritz crackers.
---
Source: Acadiana Table by George Graham [Harvard Common Press, 2016]