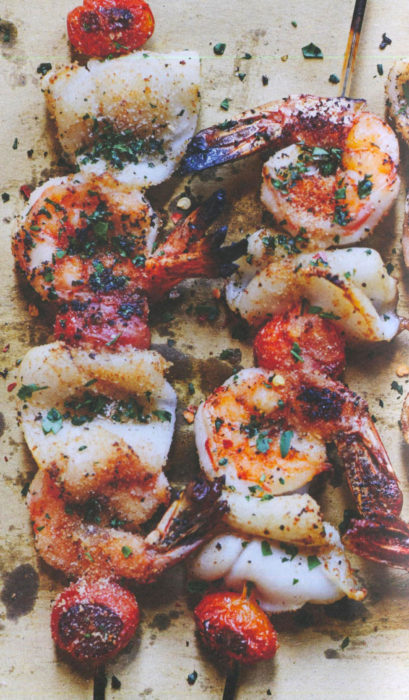 Today's cookbook review is for Spritz, a survey of the world of beverages and bites shared across Northern Italy in the golden hours of each day — the aperitivo hours.
Authors Talia Baiocchi and Leslie Pariseau toured Italian cities to get specific drink and nibble recipes. Ah, but spritz time is now here in the US, too, so there are recipes in the book from top US cocktail establishments. From Terroni in Los Angeles, here is a recipe for a lovely appetizer: a skewer filled, not with meatballs, but treats of the sea.
Shrimp and octopus are the protein pieces, supplemented by cherry tomatoes with everything adorned with breadcrumbs.
The best place for an Aperol Spritz is Venice. And the aperitivo sides in Venice are often delights from the sea. If you are ever in Venice, do visit the fish market in the morning. There you can see the freshest possible seafood items being prepped for that afternoon's succulent aperitivo bites.
---
Spiedini di Mare
Yield: serves 6
Ingredients:
½ cup bread crumbs
1 garlic clove, finely chopped
2 tablespoons finely chopped parsley
1 teaspoon salt
Wooden skewers
½ pound cherry tomatoes
1 pound large shrimps, peeled and deveined
1 pound calamari chopped into 2-inch pieces
2 tablespoons olive oil
Lemon wedges
Preparation:
In a small bowl, mix together the breadcrumbs with garlic, parsley, and salt.
Assemble each skewer with a cherry tomato, a shrimp, and a piece of calamari. Repeat once more.
Sprinkle each skewer with the breadcrumb mixture, and shake off any excess. Place on a plate in the refrigerator and let marinate for 30 to 45 minutes.
Prepare a grill to medium heat. Brush with olive oil. Place skewers on the grill for about 2 minutes on each side, or until shrimp is pink and calamari is curled.
Alternatively, add olive oil to a cast iron skillet over medium-high heat. Place skewers in cast iron skillet for about 2 minutes on each side, or until shrimp is pink and calamari is curled.
Serve with the lemon wedges.
---
Source: Spritz by Talia Baiocchi and Leslie Pariseau [10 Speed Press, 2016]