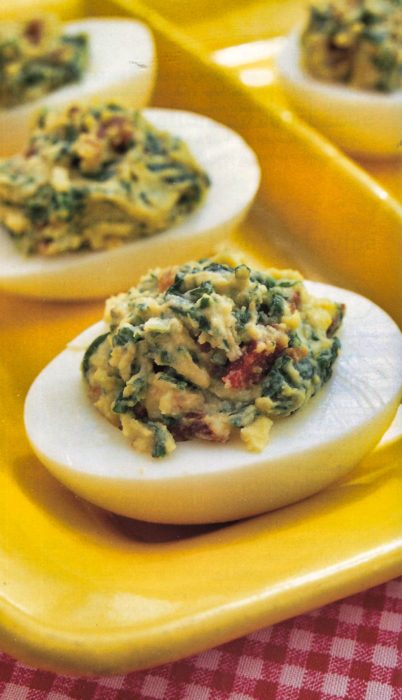 In Deviled Eggs Debbie Moose has an assortment of ideas that will change your perspective on this dish forever. Never been inspired by simple deviled eggs with a bit of paprika bite? Why not transform them into a meal? Or at least an appetizer that has you pondering which came first: that egg or the chicken or the filling?
---
Spinach-Bacon Deviled Eggs
Yield: makes 24
Ingredients:
12 hard-cooked eggs, peeled, cut in half, and yolks mashed in a bowl
½ cup frozen chopped spinach, thawed, drained, and squeezed dry
¼ cup mayonnaise
¼ cup real bacon bits
2 ½ tablespoons cider vinegar
2 tablespoons butter, softened
1 tablespoon sugar
2 teaspoons black pepper
¼ teaspoon salt
Preparation:
Combine the thoroughly mashed yolks with the remaining ingredients and mix well.
Fill the whites evenly with the mixture.
---
Source: Deviled Eggs by Debbie Moose [Harvard Common Press, 2004]