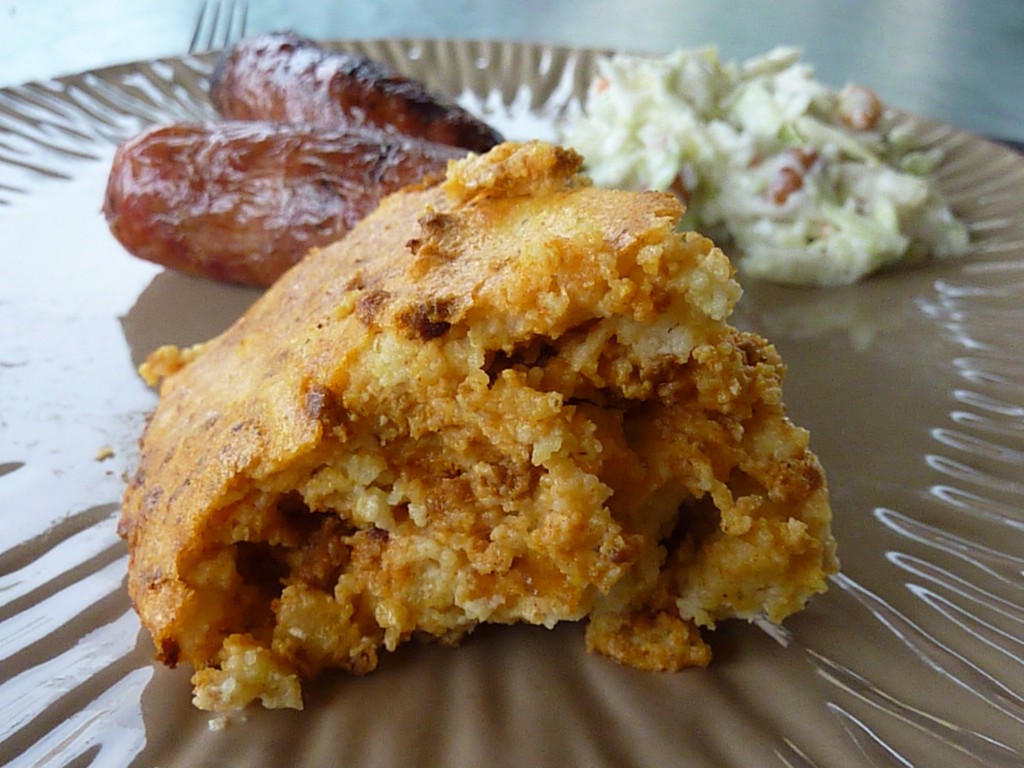 Spoonbread? You may have heard of it, but unless you have had the delight of tasting it, spoonbread has to be mystery. Soft, gooey, … what could it be?
On my first bite, I said, "This is a cornmeal soufflé." And that's exactly right. A spoonbread is a savory pudding, which is why the "spoon" part comes in. You have to spoon it out of the pan. You cannot cut it out of the pan, and you cannot spread butter and honey on it. This dish is made with cornmeal but it surely is not cornbread.
This version of spoonbread, with a full pound of chorizo, definitely has that spicy taste. Wait a couple of days, and the flavors have merged and mellowed. This is a great side dish for barbequed chicken or burgers with that hard black crust you love to snap through. In the picture above, we had sausages and coleslaw. You'll be fascinated by the textures and flavor of this dish.
Spoonbread with Simple Chorizo
Yield: 8 generous servings
Ingredients:
1 tablespoon butter
4 cups milk
2 cups cornmeal
Kosher salt
2 teaspoons baking powder
¼ cup unsalted butter, melted
4 eggs, beaten until thick
1 ½ cups grated Monterey jack cheese
1 pound cooked chorizo meat [stripped out from chorizo sausages]
1 tablespoon roasted garlic
Preparation:
Preheat the oven to 375°F and grease a medium-size casserole dish with the butter.
In a saucepan, over medium-high heat, bring the milk to a boil. Gradually add the cornmeal, stirring constantly until all the milk has been absorbed. Remove from heat and let cool.
In a large bowl, combine the cornmeal mixture, salt, baking powder, and butter until well mixed. Gently fold in the eggs, cheese, chorizo, and garlic. Pour into the casserole dish and bake for 20 to 30 minutes, or until the top starts to brown.
Remove and serve warm.
Source: Texas Cowboy Kitchen by Grady Spears with June Naylor