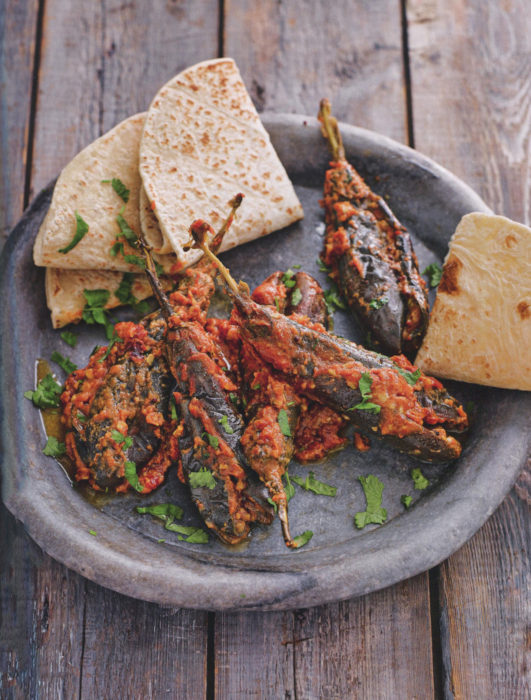 Suzi and I are working our way through the spicy The Indian Cooking Course by Monisha Bharadwaj. It is an important book, the ideal vehicle for learning the intricate and delicate techniques of Indian cuisine.
This will surprise you but, technically, eggplants are considered berries. By botanists. For the rest of us, they are veggies and rather complex ones at that. Cooking eggplants is sometimes a challenge, until you find the right avenue of recipes. You may think of baked eggplant as an Italian creation and the Italian recipes are lovely. But eggplants are Asian, first cultivated there, and mastered there culinarily. Over 2/3 of the world eggplant supply is grown in China and India. And it is to those nations that we can turn for the grandest array of recipe.
This Indian idea, stuffing eggplants with tomatoes and peanuts and a bevy of herbs, offers a main course of substance. If you cannot find small eggplants, then you use large eggplants cut into dice and cooked in the sauce instead of stuffed with it. You can, of course, amend the recipe by adding some additional ingredients: carrots, pepper, or onions. You'll want to sauté those elements before adding them to the fold here.
---
Stuffed Baby Eggplant
Yield: serves 4
Ingredients:
2 tablespoons chickpea flour
1 x 14.5-ounce can of chopped tomatoes
2 teaspoons unsalted peanuts, crushed
1 tablespoon ginger-garlic paste
A handful of fresh cilantro leaves, chopped
½ teaspoon ground turmeric
½ teaspoon medium-hot red chile powder
2 cups small eggplants, slit lengthwise but stalks left on
2 tablespoons vegetable oil
½ teaspoon black mustard seeds salt
Rotis [Indian flat bread], or rice to serve
Preparation:
Combine the chickpea flour, tomatoes, peanuts, ginger- garlic paste, cilantro leaves, ground spices, and salt in a mixing bowl. Stuff the eggplants with this mixture, saving any that is left over for the curry.
Heat the oil in a heavy-bottomed saucepan over high heat. Add the mustard seeds and cook until they begin to pop, then gently place the stuffed eggplants in the pan and pour in any leftover spice mixture. Pour in a few tablespoons of water and cover the pan. Bring to a boil, reduce the heat and simmer for about 25 minutes until the eggplants are cooked. Keep adding water as necessary to prevent the mixture from sticking to the bottom of the pan; the sauce should be quite thick. Adjust the seasoning to taste and serve hot with rotis or dal and rice.
---
Source: The Indian Cooking Course by Monisha Bharadwaj [Kyle, 2016]