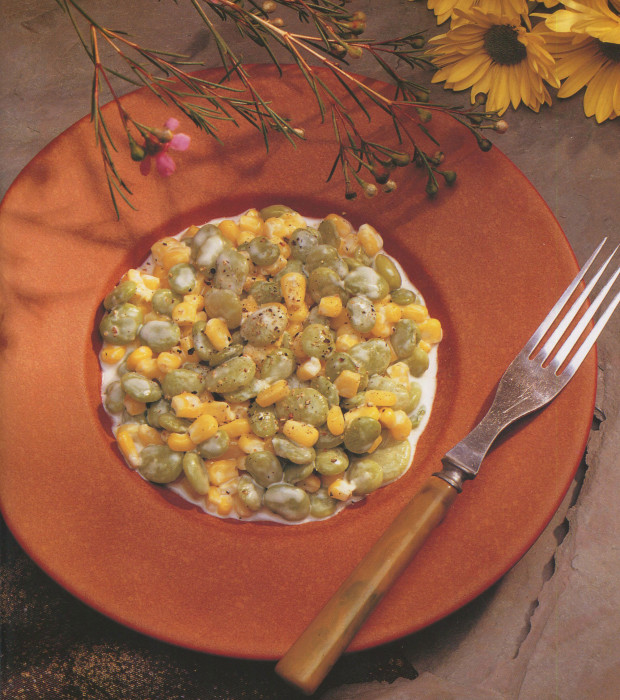 Recently I did a TBT cookbook review of Meat & Potatoes by Judith Choate. Published in 1992, the book is filled with classic recipes. Some, I think, so classic you may not have ever had them. Take this one: succotash. It's dish created by the Narragansett Indians. A combination of corn and Lima or other shell beans, it's a lovely dish. And you extend the basic recipe by adding peppers or tomatoes.
This version of the recipe is pure: corn and lima beans. Ah, there's some salt pork here, a boon from Judith to give us a little more tang.
---
Succotash

Yield: serves6

Ingredients:

2 cups fresh baby lima beans
1 2-ounce piece salt pork
¼ cup water
½ teaspoon sugar
Salt and pepper to taste
2 cups fresh corn kernels
½ cup heavy cream
Preparation:

Place lima beans, salt pork, water, and salt and pepper in a heavy saucepan over medium heat. Bring to a boil. When boiling, lower heat to a simmer and cook for about 5 minutes or until beans are tender. Add corn and cream and cook for 5 minutes or until slightly thickened. Serve immediately.
---
Source: Meat & Potatoes by Judith Choate [Simon & Schuster, 1992]