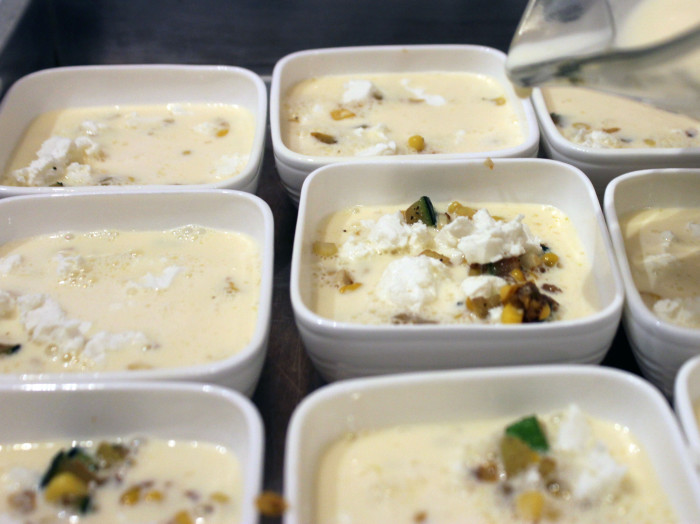 Heavy cream, milk and eggs. This is a particularly light way to start a summer meal.
It is. It really is. If eaten in moderation.
Suzen's busy season for corporate events is on. Firms come here, cook together, and eat what they have just polished in our kitchen. The first course of choice — seemingly by every client this summer — is this impeccably smooth summer flan. It's the flan that consumes eggs and dairy. Into the mix you add corn and zucchini, for just a little crunch.
This is a rich way to serve up summer bounty. You can swap in other veggies here: asparagus, carrots, scallions, … Just make sure that the veggies are fully, thoroughly cooked before incorporating them into the flan.
In place of the feta, you can supply another "soft" cheese for similar texture but different flavor.
Serve with a chilled white wine, follow with salad topped with a strong vinaigrette. After this start any main course will receive automatic smiles.
Summer Vegetable Flans
Yield: 6 servings
Ingredients:
1 tablespoon olive oil, plus more for the custard cups
1 shallot, finely chopped
2 garlic cloves. finely chopped
1 cup finely diced zucchini
¼ teaspoon coarse (kosher) salt
1 cup fresh corn kernels
3 ounces feta cheese, crumbled
3 large eggs
¾ cup whole milk
¾ cup heavy cream
Preparation:
Preheat the oven to 350°F. Brush six 6-ounce custard cups or ramekins with oil. Put a pot of water up to boil.
In a large skillet, heat the 1 tablespoon oil over medium heat. Add the shallot and garlic and cook for minutes, stirring, until tender.
Stir in the zucchini and salt and cook for 7 minutes, stirring occasionally, until the zucchini is tender. Stir in the corn and cook 1 minute longer.
Place the custard cups in a baking pan large enough to hold them in a single layer. Divide the vegetable mixture among the custard cups and scatter the cheese over the top.
In a medium bowl, whisk together the eggs, milk, and cream. Divide the mixture among the custard cups. Pour the boiling water into the baking pan to come halfway up the sides of the cups. Bake the flans for 25 minutes, until the custard is just set.
Remove from the water bath; let cool minutes, then run a-metal spatula around the edge of the cups and invert the flans onto serving plates. (Or, if you prefer, you can leave the flans in the cups and serve them that way.)
Sources: The Beekman 1802 Heirloom Vintage Cookbook from Brent Ridge and Josh Kilmer-Purcell
Photo Information [top]: Canon T2i, EFS 60 mm Macro Lens, F/4.5 for 1/60th second at ISO-800