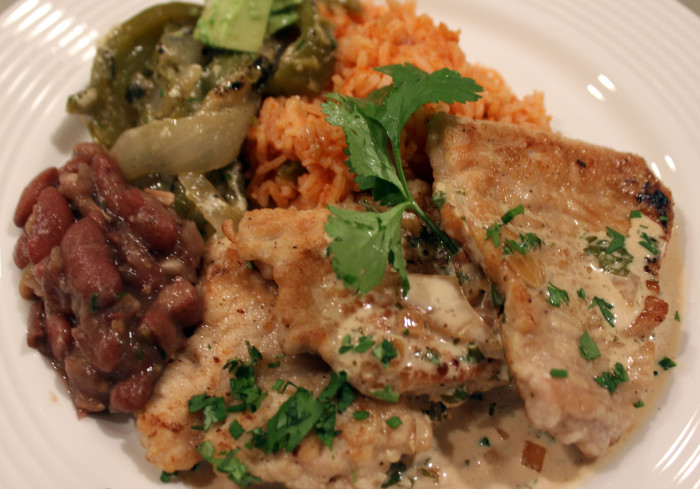 Tomorrow is Super Bowl Sunday with an honest team, the Seahawks, and a suspicious team, the Patriots, finishing the season in Phoenix. The game should be exciting and exceptional. And, of course, deserving of superior food.
If wings or ribs or nachos seem too "snacky" for you, if you want a full meal, then consider that Southwestern plate you see above:
Turkey Medallions with Tequila Lime Sauce
Drunken Red Beans
New Mexican Rice
Roasted Tomatillos
I'll leave it to you to figure out how to roast the tomatillos, or perhaps some onions and poblanos in the form of caramelized rajas:
https://cookingbythebook.com//recipes/caramelized-rajas-2/
For everything else, the recipes are right here. You can cook during the afternoon, keep everything warm, and serve whenever you want. For Suzen and me, food has to come during the half time show, which we listen to but don't have to actually "see." We do have to see every play of the game and of every commercial.
Some years the commercials almost, just almost, outrank the game. Tomorrow ain't gonna be one of those days.
---
Turkey Medallions with Tequila Lime Sauce

Yield: serves 4

Ingredients:

8 turkey medallions, approximately 1 ½ pounds, or 1 ½-2 pounds turkey breast, boned and sliced into 4‑ounce slices
4 tablespoons butter
¼ cup fresh lime juice
¼ cup cup, plus 1 tablespoon gold tequila
⅓ cup heavy cream
¼ tsp ground coriander
2 tablespoons chopped fresh cilantro
2 tablespoons chopped fresh chives
¼ tsp salt
¼ tsp pepper
Cilantro sprigs for garnish
Preparation:

Pound each medallion between sheets of wax paper to ⅛-inch thickness.
Heat 2 tablespoons butter in a large skillet and sauté the turkey over medium-high heat until golden brown, about 2 minutes on each side. Transfer to a platter and keep warm.
Add lime juice and tequila to the skillet and simmer for about 3 minutes. Add remaining butter and stir until smooth.
Stir in cream and coriander and simmer for another 3 minutes. Add cilantro, chives, salt, and pepper and stir. Remove from heat.
Pour sauce over turkey medallions. Garnish with sprigs of cilantro.
Source: Gourmet LA by the Junior League of Los Angeles, 1988

---
Drunken Red Beans and New Mexican Rice

Yield: serves 6

Ingredients:

For the beans:

¼ cup flavorful extra-virgin olive oil
2 cups chopped onions
1 tablespoons minced garlic
1 pound dried red kidney beans, rinsed and soaked
1-5 cups unsalted chicken broth
1 ½ tablespoons tequila (plus a little more if you like)
2 bay leaves
1 piece (about 1 ½ inches) cinnamon stick
Hot pepper sauce to taste
For the rice:

Hot pepper sauce to taste

3 tablespoons flavorful extra-virgin olive oil

½ cup chopped onion

2 cloves garlic, minced

2 cups uncooked long-grain white rice

3 ½ cups of half unsalted chicken broth and half water

2 teaspoon salt

½ cup pared and finely chopped carrot

½ cup finely chopped celery

cup diced (¼ inch) sweet red onion

½ cup diced (¼ inch) green bell pepp

er
Preparation:

For the beans:

Heat the oil in a large heavy saucepan. Add the onions and sauté, stirring, until coated with oil. Cover and cook over very low heat, stirring occasionally, until golden brown, about 15 minutes. Stir in the garlic and sauté uncovered, for 3 minutes.
Drain the beans, then add them and the broth to the onion. Heat to boiling and cook, covered, over low heat for 2 hours. Add the bay leaves and cinnamon. Cover and continues to cook until the beans are very tender, about 1 hour. Season with salt and hot red pepper sauce and add tequila. (The beans can be prepared up to 24 hours before serving. Reheat, adding additional broth if necessary).
For the rice:

Heat 1 tablespoon of oil in a heavy saucepan. Stir in the onion and garlic, and sauté, stirring, just until tender, about 5 minutes. Stir in the rice until coated with oil. Add the water (or broth and water) and salt, then heat to boiling. Cover and cook the rice over medium-low heat until the liquid is absorbed and the rice is tender, about 15 minutes.
Heat the remaining 2 tablespoons of oil in large skillet. Add the carrot, celery, and red onion, and sauté, stirring, until tender but not browned, about 5 minutes. Add the green pepper and sauté until crisp-tender, about 2 minutes. Set aside.
Toss half of the sautéed vegetables with the rice just before serving. Spread a mound of the rice in a shallow soup plate and top with the beans. Garnish each with a spoonful of the remaining sautéed vegetables.
Source: Rice: The Amazing Grain, Marie Simmons, 1991

Photo Information: Canon T2i, EFS 60mm Macro Lens, F/4 for 1/30th second at ISO 320