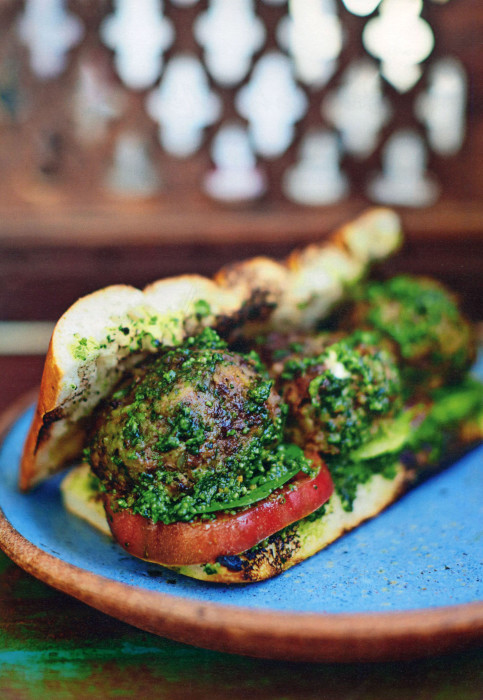 It's a week to Super Bowl Sunday. Time to plan.
How about a plate of meatballs. Meatballs are popular. They must always have been popular.
Actually, no. There is a tool from Google, the Ngram, where you put in a word and see how frequently is has been used in millions of books over the years. You can get that "usage" history going back to 1800.
What is the history for "meatballs?" Until about 1930, the word hardly appeared at all, then began to creep up, perhaps the result of Italian immigration. By 1960 "meatballs" began to skyrocket in usage. Today, we use the term almost ten times as often as we did back in 1960.
Ever popular, there is an endless supply of recipes. How do Suzi and I judge one of those recipes to see if we want to make it? The very first thing we look at is the meat: we look for a mix of at least two and ideally three meats. And here, in this lovely recipe, you do get the Meatball Trinity: pork, beef and veal.
There is a surprise, here, too. Each meatball is stuffed with Burrata cheese. That makes each and every meatball both rich and rewarding. There is a sauce, a Pistachio Basic Pesto, to accompany these meatballs. The combination of cheese inside and this different sauce outside makes this a meatball candidate. Where did we find this recipe? My Life on a Plate by Kelis, a book filled with flavor and, obviously, color.
Add a salad and the beverage of your choice, and you have a superb meal. It's a great party food and the recipe can be easily scaled for your crowd size. For your Super Bowl Party, these will be remembered long the Seahawks win the game.
My daughter lives in Seattle. My wife loves Jimmy Graham. And I love to watch Russel Wilson dash around the field and then casually toss ball fifty yards.
Okay, I'm writing this seven weeks ahead of the actual Super Bowl. So, either I can going to seem like a football genius to you, or someone who should avoid fantasy football. We'll see!
---
Burrata-Stuffed Meatballs with Pistachio Basil Pesto

Yield: 2 dozen meatballs, enough for 6-8 servings

Ingredients:

1 pound ground pork
1 pound ground beef
1 pound ground veal
½ red onion, minced
6 garlic cloves, minced
1 tablespoon dried oregano
1 tablespoon plus 2 teaspoons kosher salt
1 tablespoon smoked paprika
2 teaspoons dried basil
1 teaspoon black pepper
1 cup fresh breadcrumbs
8 ounces Burrata
2 tablespoons olive oil
1 recipe Pistachio Basil Pesto [recipe follows]
Preparation:

In a large bowl, mix together the pork, beef, veal, red onion, garlic, oregano, salt, smoked paprika, basil, and pepper, massaging the mixture with your hands to incorporate the ingredients without smashing the meat too much. Put the breadcrumbs on a plate. To shape the meatballs, take 2 ½ ounces of the meat and gently form a patty. Scoop a scant teaspoon of Burrata into the center, fold up the edges, and gently roll the meat into a ball. Roll the balls in the breadcrumbs and put them on a baking sheet. For perfectly round meatballs, put the meatballs in the refrigerator for at least 1 hour and up to overnight to chill; chilling helps them hold their shape when cooked.
Heat the oil over medium heat in a large sauté pan with a lid. Gently tap the excess breadcrumbs from the meatballs, put the meatballs in the oil, and brown them on all sides, 6 to 8 minutes. Cover the pan, turn off the heat, and let the meatballs cook all the way through from the residual heat in the pan, about 8 minutes. Remove the lid, pour the pesto over the meatballs, and turn them gently to coat with the pesto. Serve immediately.
---
Pistachio Basil Pesto

Yield: 2 cups

Ingredients:

6 ounces fresh basil (about 8 packed cups)
1 cup raw unsalted pistachios
2 ¼ cups extra-virgin olive oil
6 to 8 garlic cloves, smashed and roughly chopped
2 ounces spinach (about 2 packed cups)
½ cup finely grated Parmesan cheese (about 8 ounces)
1 teaspoon kosher salt, plus more to taste
Preparation:

Combine all of the ingredients in the bowl of a food processor fitted with a metal blade, or the jar of a blender, and puree. Season with more salt to taste.
---
Source: My Life on a Plate by Kelis [Kyle 2015]