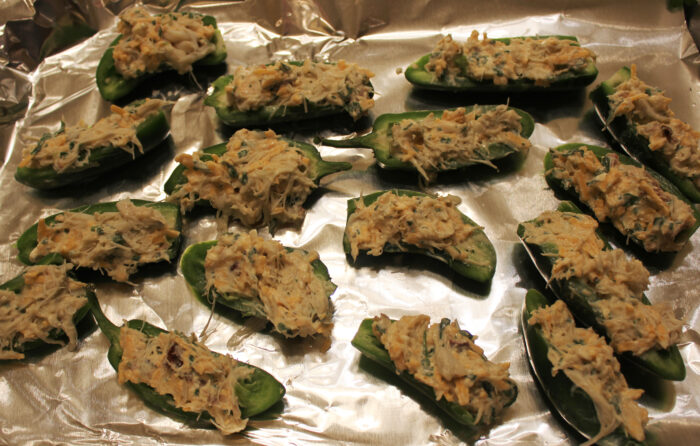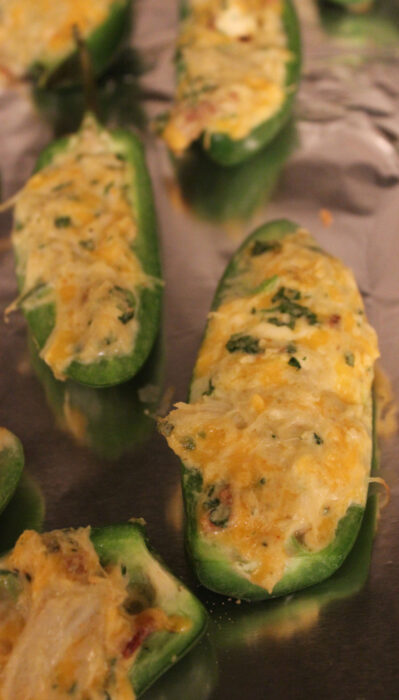 Crab. Cheddar cheese. Jalapenos. Oh, and cream cheese.
That's a list of "comfort foods" for me. Now let's take them all and create a comfort food recipe that is, in a word, magnificent.
For Super Bowl, these are a "nosh" of substance. You can't eat just one, but you can't eat ten either. And live. A platter of these will make your Super Bowl guests most happy.
Oh, it's just you and your spouse for Sunday. Heck, be happy together. This recipe will brighten, and warm, your Super Bowl experience.
The recipe calls for Cajun seasoning. When I began to test this recipe for you, I discovered that I did not have any in the house. So I made my own mix and was thoroughly delighted. You'll find the Cajun spice mix recipe here.
---
Cajun Crab Poppers
Yield: 16 appetizers [enough for 3-4 people]
Ingredients:
4 ounces cream cheese, softened
1 large egg, lightly beaten
2 tablespoons minced fresh parsley
1 garlic clove, minced
½ teaspoon Cajun seasoning
1 ½  cups shredded sharp cheddar cheese
1 can (8 ounces) lump crabmeat, drained
2 bacon strips, cooked and crumbled
8 jalapeno peppers
Preparation:
Preheat oven to 375°. In a small bowl, beat the first 5 ingredients until blended. Stir in shredded cheese, crab and bacon. Cut jalapenos in half lengthwise and remove seeds. Spoon filling into pepper halves. Place on an ungreased baking sheet. Bake until lightly browned, 15-20 minutes. Sprinkle with additional parsley.
---
Source: tasteofhome.com
Photo Information [Top]: Canon T2i, EFS 60mm Macro Lens, F/3.5 for 1/30th second at ISO‑100
Photo Information [Bottom]: Canon T2i, EFS 60mm Macro Lens, F/4.5 for 1/60th second at ISO‑3200