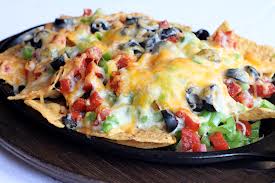 If nachos are on your menu for Sunday's Super Bowl, then I recommend this version. It's the second best nachos I ever had. The best? On the other side of the border, of course.
Using a great chili recipe [there's one right here] and topping the avocado crema gives you a rich, fulling nosh. This one supports beer, margaritas, and even a dark red wine.
I tried to get the recipe for those best nachos, but I did not speak French. Yes, French. The border was Canada, not Mexico. The restaurant was in Toronto with some refugees from Montreal who spoke French and cooked Mexican.
Food is global. And you"ll enjoy this treat.
Brian's Super Chili Nachos
Yield: serves 4-6
Ingredients:
5 ounces corn tortilla chips
8 ounces grated cheddar cheese [or Monterey Jack or Pepper Jack]
¾ cup candied jalapenos, or more depending on your tolerance
1 large onion finely diced
2 cups chili [ideally Tom Valenti's Texas-Style Chili, recipe follows]
Sour cream, avocado creama, diced tomatoes, or additional grated cheese as garnishes [avocado crema recipe follows]
Preparation:
Preheat the oven to 475°.
Spread the tortilla chips evenly over pan [half-sheet] lined with foil.  Cover evenly with the grated cheese.  Evenly sprinkle the jalapenos and diced onions.
Top with the chili.  This is best done a spoonful at a time.  Just try to cover in bite size globs.  Spreading the chili evenly over the other ingredients is not easy, and not necessary.
Bake the nachos for about 7 minutes, until the cheese is fully melted.  If the chili is leftovers and has been refrigerated, it may take about 10 minutes to fully heat the dish.
Remove from the oven and serve with the garnishes.
Source: Brian O'Rourke
Avocado Crema
Yield: 1 cup
Ingredients:
1 ripe avocado, peeled and pit removed
½ cup buttermilk
3 tablespoons lime juice
¼ cup sour cream
½ teaspoon salt
Variations are unlimited, but consider: chili powder of any variety, garlic, chives, cilantro, or green chili
Preparation:
Puree all the ingredients in a blender or food processor for one or two minutes.  Sample the taste and add additional seasoning — salt or white pepper — to suit your palette.
Source: Macho Nacho by Kate Heykoe
Texas Style Chili
Yield: Serves 6+
Ingredients:
2 pounds beef chuck, cut into 1-inch chunks, trimmed of fat
Coarse salt
Freshly ground black pepper
Garlic powder
Chili powder
2 tablespoons olive oil
2 large carrots, peeled and cut into small dice
1 large Spanish onion, peeled and cut into small dice
1 stalk celery, cut into small dice
2 bell peppers, seeded and cut into small dice
10 cloves garlic, peeled and minced
2 heaping tablespoons tomato paste
Pinch of sugar
2 tablespoons all-purpose flour
1 tablespoon distilled white vinegar
1 quart store-bough reduced-sodium beef broth
4 plum tomatoes, coarsely chopped
1 teaspoon ground cumin, plus more to taste
1 ancho chile, seeded, stemmed, and minced
2 15-ounce cans red kidney beans, drained and rinsed
Sour cream, grated cheddar cheese, Tabasco sauce, and minced onion or scallions, optional.
Preparation:
Put the meat in a bowl and season with 1 tablespoon each of salt pepper garlic powder and chili powder. Set aside.
Warm the oil in a large pot over medium-high heat.  Add the meat and cook until browned all over, 7 to 10 minutes, then transfer to a plate and set aside.
Drain off all but a few tablespoons of liquid from the pot. Add the carrots, onion, celery, bell peppers, and garlic, season with salt and pepper, and cook, stirring, until softened but not browned, about five minutes. Add the tomato paste and sugar and stir to coat the vegetables.
Return the meat to the pot sprinkle the flour over the meat stirred in, working quickly to keep it from browning.
Add the vinegar and stir to loosen any bits of flour or meet stuck to the bottom of the pot.  Add the broth in small increments, stirring to prevent lumps add the tomatoes proven, and showed chili stir. Bring the liquid to a boil over high heat.
Cover the pot, reduce the heat so that the liquid just simmers, and cook for one hour. Add the beans and continue to cook until they are very tender, about 15 minutes. If not serving immediately, but cool, cover, and refrigerate for a few days or freeze for up to one month. Reheat before conditioning very
To serve, divide the chili among six bowls and pass garnishes at the table in individual bowls, inviting everyone to doctor his or her chili to taste.
Source: Tom Valenti's Soups, Stews, and One-Pot Meals by Tom Valenti