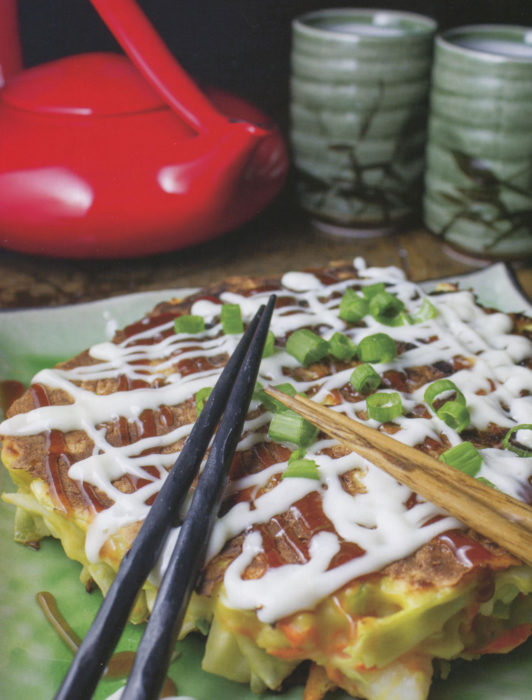 In One Pan to Rule Them All, authors Howie Southworth and Greg Matza prove that, if you could only one pan, you'd want it to be that cast iron monster that is also good for building biceps. Yes, they can be big and heavy, but they work. They come in smaller versions, you know. Here's an idea for a nice 10-incher, a recipe that Howie discovered in Japan.
The Japanese make a dish called Okonomiyaki which loosely translate to "grille whatever your like." That's a signal to you that this recipe is a template. You can follow it to the letter or open your fridge and cook away.
This dish is, as you might expect, swiftly prepared. Most of your time will be getting things next to the stove, dicing, cutting, chopping. Then be ready to get hyper in your kitchen!
---
Creamy Country Gravy from One Pan to Rule Them All
Yield: serves 2 to 4
Ingredients:
The Pancake:
1 cup all-purpose flour
¼ teaspoon sugar
½ teaspoon salt
¼ teaspoon baking powder
¾ cup chicken or vegetable broth, cooled; or water with 1 tablespoon soy sauce
4 large eggs
1 small green cabbage head, about 4 cups, cored and diced
½ pound shrimp, peeled, deveined, and diced
2 carrots, shredded
2 scallions, thinly sliced
½ cup panko breadcrumbs
1 tablespoon canola or vegetable oil
4 strips of bacon, halved
The Sauce #1 (Okonomi):
2 tablespoons ketchup
1 tablespoons soy sauce
1 tablespoon Worcestershire sauce
The Sauce 02 (Japanese-style mayonnaise):
2 tablespoons mayonnaise
2 teaspoons rice vinegar
¼ teaspoon garlic powder
Preparation:
In a large mixing bowl, whisk together flour, sugar, salt, and baking powder. In another mixing bowl, whisk together broth or water mixture with the eggs. Add the wet ingredients to the dry and blend until just combined. To this batter, add cabbage, shrimp, carrots, the white parts of the scallions, and breadcrumbs. Stir to combine evenly. Do not overmix.
Add the oil to the skillet over medium heat. Once the oil is shimmering, place half of the batter in the skillet and flatten with the back of a spatula. Then, with the front of the spatula, draw the edges back in to form a round pancake. Lay 3-4 strips of bacon across the top of the pancake.
Cover the skillet and cook for 6-7 minutes. Gently lift the edge of the pancake to see if the bottom is getting golden brown. Flip the pancake. Leave skillet uncovered and cook the other side for an additional 6-7 minutes. Repeat with the second half of the batter.
Drizzle both of the sauces across the top of the pancake, and top with the green parts of the scallions. Serve at room temperature or warmed, family style on a warm platter.
---
Source: One Pan to Rule Them All by Howie Southworth and Greg Matza [Good Books, 2016]