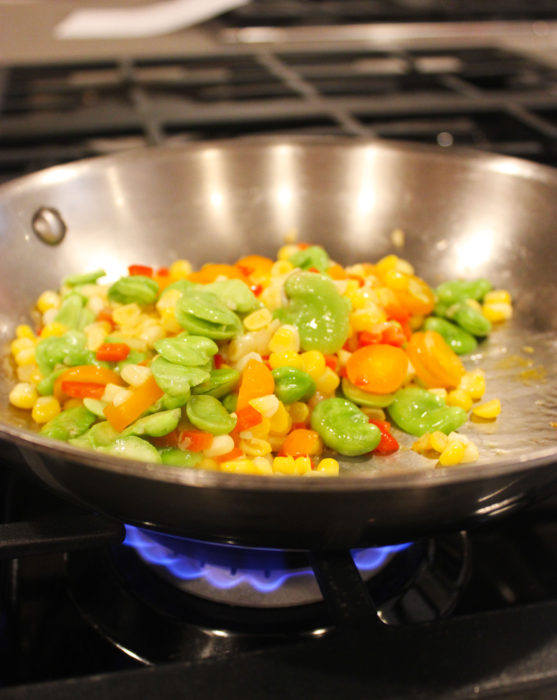 Succotash was once a very popular dish in America. The Narragansett Indians created this recipe — succotash means "broken corn kernels." Early American settlers adopted the dish and inexpensive succotash was on most tables during the Depression. When the economy recovered, succotash became a forgotten treat for most of us. It still graces Thanksgiving tables in parts of the country: New England, Pennsylvania, and the Deep South.
Often made with bacon or pork, succotash can have a mix-and-match array of ingredients. Corn is the essential base. Lima beans are deliciously traditional. After that, you are free to improvise. Here, we added some lemon zest providing a lovely zing to the corn and lima beans.
At the peak of summer, with corn and other vegetables so packed with flavor, this dish is a superlative way to sample summer at its best.
We prepared out succotash on our Jenn-Air® Pro-Style® Gas Rangetop. The 36" unit has six burners and two of them are high powered 20,000 BTU marvels [there are three 15,000 burners and one 5,000 burner for long slow simmering]. We wanted a quick cook, we used that 20,000 BTU front burner, and our succotash was ready in 6 minutes thanks to that high heat. Every element in the dish was cook to its core, while that intense heat was actually beginning to caramelize the corn.
If you did make this dish with some bacon, a large portion could serve as a main course. Here, with just vegetables in play, this succotash version is a perfect summer side dish. Try it with your burger or that steak fresh off the grill. Succotash may have been forgotten, but you'll want to remember and embrace it.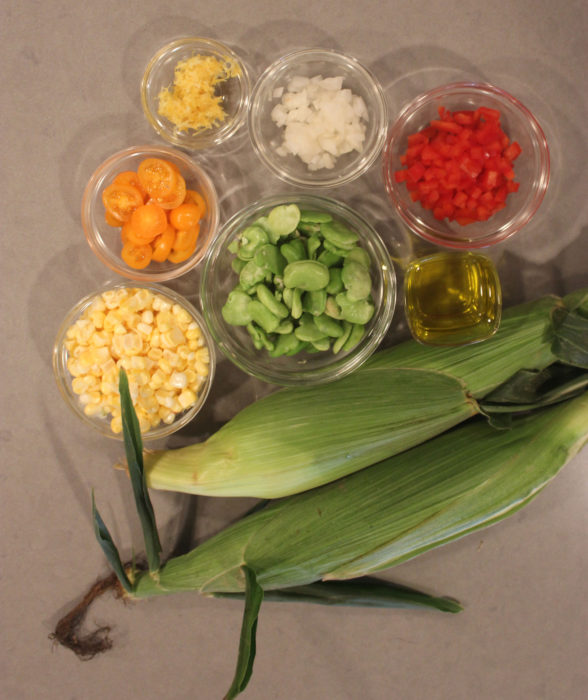 Suzi's Summer Succotash
Yield: about 3 cups
Ingredients:
1 tablespoon olive oil
½ white onion, diced
½ red pepper, diced
Kernels cut from 1 ear of fresh corn
½ cup grape tomatoes, sliced
½ cup lima beans, fresh or defrosted
Zest of one lime
Kosher salt and freshly ground pepper to taste
Parsley for garnish
Preparation:
Place the olive oil in a 10" sauté pan over medium-high heat. Add the onion and sauté until soft, about 2 minutes. Add the red peppers and continue to cook for another minute. Add the corn, tomatoes, lima beans and lemon zest. Heat through for about 3 more minutes. Taste test and add salt and pepper as necessary.
Remove from the heat and plate. Garnish with parsley. Leftovers are delightful and can be served cold as a side dish. Or, put cold succotash atop lettuce for a lovely brunch main course. Pair with sizzling garlic bread.
Source: Suzen O'Rourke at Cooking by the Book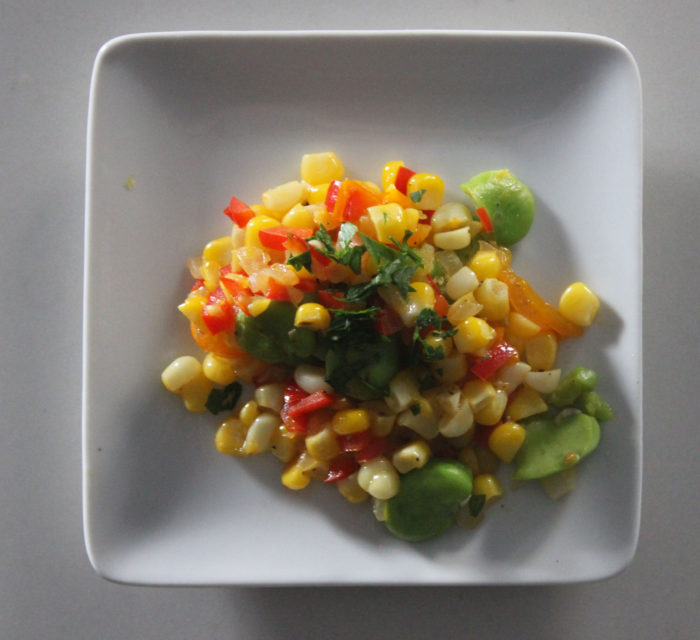 Photo Information [Top]: Canon T2i, EFS 60mm Macro Lens, F/4 for 1/30th second at ISO‑1600
Photo Information [Middle]: Canon T2i, EFS 60mm Macro Lens, F/4 for 1/30th second at ISO‑1250
Photo Information [Bottom]: Canon T2i, EFS 60mm Macro Lens, F/5.6 for 1/25th second at ISO‑3200