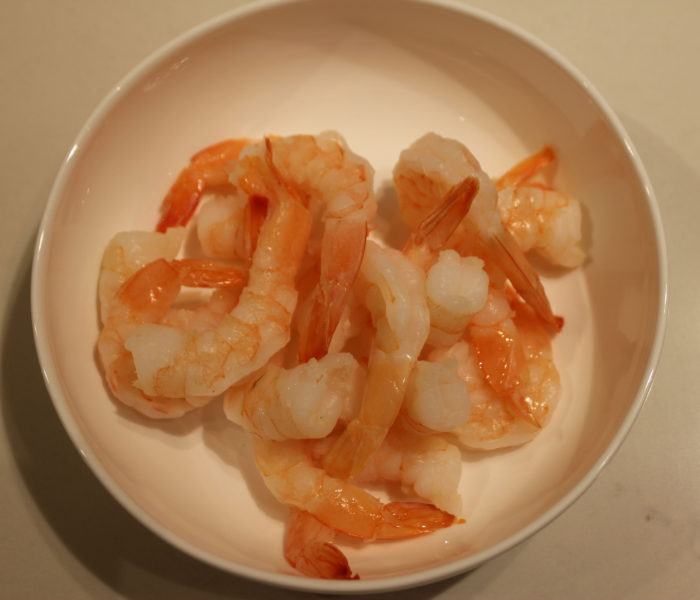 Suzi and I love the Potsticker Chronicles by Stuart Chang Berman. He's fun and flavorful. He entices you to this recipe. You see unadorned shrimp up at the top of this post. Now, use your imagination. Remember sitting in a Chinese restaurant eating sweet and sour shrimp with that wonderful red sauce. Sticky, somehow spreading all over your face and hands. Impossible to wipe off. Impossible to forget.
I want to make this sauce. Suzi, in collaboration with my endocrinologist, suggests that the sugar content here is too high. It's an ongoing debate. Now, I may not be able to eat this, but you can. So,  if you do not have a Type 2 Diabetes issue, go for it. Please let me know how sweet, and how sour, it is! You'll need lots of napkins. And cold beer.
---
Sweet and Sour Shrimp
Yield: serves 4
Ingredients:
For the Shrimp:
1 pound shrimp (21-25 or 26-30 count per pound)
1 ½ cups cornstarch
2 cups all-purpose flour
2 eggs
4 cups plus 6 tablespoons vegetable oil
2 teaspoons baking powder
For the Sauce:
1 orange
1 lime or lemon, or ½ lime and ½ lemon
2 tablespoons finely minced fresh ginger
1 cup sugar
½ cup apple cider vinegar
½ teaspoon salt
1 tablespoon red food coloring (optional
1 medium green bell pepper, seeded and cut into I-inch diamond shapes
1 medium onion, cut into I-inch cubes
1cup in 1-inch chunks of pineapple, preferably fresh (reserve any residual juice)
1 tablespoon cornstarch mixed with 3 tablespoons cold water
Preparation:
Devein the shrimp by butterflying them. Cut into the back of the shrimp without cutting all the way through, leaving a small donutlike hole in the center. Rinse away the veins. Roll the butterflied shrimp in 1 cup of the cornstarch to coat well.
In a large bowl, mix the flour, ½ cup of cornstarch, eggs, ¼ cup of the vegetable oil, and cold water with a sturdy whisk. Add the baking powder and mix in. Let the batter sit for approximately 10 minutes, or until small bubbles start rising to the surface.
Heat the 4 cups oil to 350°F. Place a handful of shrimp in the batter and stir to coat well. Deep-fry until yellowish white in color. Drain and deep fry the shrimp a second time until golden yellow, about 15 seconds, but do not let get brown. Drain in the deep fryer basket and then put the shrimp on absorbent paper. (Paper towels are fine, but I use paper bags from the supermarket.)
In a medium saucepan, place 2 cups of cold water and bring to a boil. Squeeze in the juice of the orange and lime or lemon, then add the ginger, sugar, vinegar, ketchup, salt, and food coloring. Bring to a boil and cook for 20 minutes, or until the liquid is reduced by almost half Set the sweet and sour sauce aside, covered to keep warm.
Heat the remaining 2 tablespoons oil in a wok to the smoking point. Stir fry the green pepper, onion, and pineapple for 5 minutes or until the green pepper is bright green. Add the sweet and sour sauce, plus any residual pineapple juice. Bring to a boil.
Stir the cornstarch mixture back into solution and add it a little bit at a time until the sauce is thickened, not soupy or gummy.
Add the deep fried shrimp. Toss 5 times, or until well coated, and serve immediately.
---
Source: Potsticker Chronicles by Stuart Chang Berman [Houghton Mifflin Harcourt, 2004]