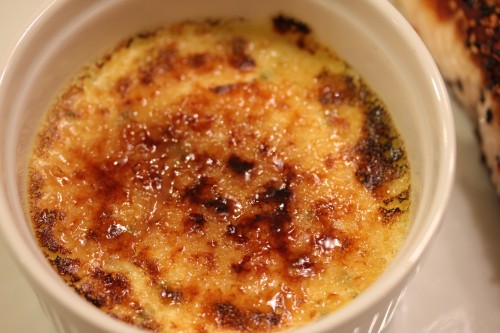 "Can you repeat that?" I asked my husband Brian. Of course, I had understood every syllable he has just said but I just wanted to see if he could repeat his tale with no sign of falsehood.
I would not call my husband a liar. He can be quite a storyteller.
"Okay," he began. "I was reading up and it turns out that for fall when I am working outside and raking and everything, I, uh, can burn almost 5000 calories a day. So I need some intake of calories and yet I don't want to eat so much I feel stuffed. And that's why I need crème brûlée.
"You know, small volume, but high in calories," he finished. Straight face. Actually, a sincere, earnest look on his face. He's jury-proof.
"Yes, I see," I spoke slowly. "I imagine that cream and eggs and sugar would be a very expedient way to supply you with what you need. It's not that you just want a delicious dessert."
"Well, of course, it's good to eat," he was being careful. "But it's really for the calories. Why I even read that they feed crème brûlée to lumberjacks in Siberia for breakfast. Just for this calorie issue."
"Really," I smelled a rat. "Where did you read that?"
"Uh, I'm not sure. I was surfing the web and … Oh, yes, that was it. A back issue of National Geographic."
"Very interesting," I said.
Hours later, we sat down to dinner. I served a delicious new salmon dish — which I will blog tomorrow. And, there was this side dish.
"What is this?" Brian asked. He poked at the top of the side dish with his fork. There was the unmistakable mark of caramelized sugar on top. His curiosity was killing him.
"Taste it," I said.
He probed with the fork, broke the sugar crust, dipped in, and lifted out a nice forkful. And that forkful was creamy, cheesy, filled with kernels of corn and chunks of roasted red pepper.
"What is this?" He repeated. The fork was near his mouth. He wasn't tasting. He was sniffing.
"Crème brûlée, just what you asked for," I told him with a loving voice.
"But, but, …" He was so perplexed.
"You know, Brian, it turns out there are savory crème brûlée recipes. Rather than just have that plain old, common vanilla one for desert, I found a way to put in corn and pepper and cheese in. Lots of calories. But healthy ones, too."
"Where in God's name did you get this recipe?" he asked.
"National Geographic."
Actually, that's not true. There is a lovely book Crème Brûlée by Lou Seibert Pappas spanning a bounty of brûlées. Yes, the classic recipe for that vanilla dessert is there, but the savory ones are really mouthwatering:
Gorgonzola and Leek
Brie Croustade
Wild Rice and Crab
This was my first shot at using this book and this corn and red pepper was a delight. And pretty good vengeance, too.
Here an important note for you. I have put the original recipe instructions below here. But cooking a custard can be a tricky thing:
How big is your ramekin [I used 8 ounce ones filled about to the 6 ounce level]
Is it deep or flat
Are the ingredients brought to room temperature or used straight out of the refrigerator
Is there any pre-cooking of the custard before the baking [a technique used by many but not in this book]
Those factors will really impact you cooking time. Lou recommends a low oven at 275⁰F. For my larger containers, with ingredients used cold from the refrigerator, I used 350⁰F for about 45 minutes. What you really need to do is check for doneness after about 35-40 minutes. After a bit of experience, based on your oven and your containers, you'll have the hang of it. And this book is filled with many, many ideas for you to experiment on and then relish.
Sweet Corn and Roasted Red Pepper Crème Brûlée
Yield: serves 6
Ingredients:
2 tablespoons unsalted butter
Kernels cut from 2 large ears white corn (about 1 ½ cups)
½ cup diced bottled roasted red peppers
2 tablespoons minced fresh chives 6 large egg yolks
1 ½  cups heavy (whipping) cream V2 cup half-and-half
Dash of hot pepper sauce
¼  teaspoon salt
Freshly ground black pepper to taste
1 cup (4 ounces) shredded white Cheddar cheese
6 tablespoons oven-dried brown sugar for topping
Preparation:
Preheat the oven to 275 °F. In a medium saucepan, melt the butter over medium heat, add the corn, cover, and cook for 2 minutes, or until tender. Turn into a medium bowl and stir in the peppers and chives.
In a medium bowl, whisk the egg yolks until pale in color. Whisk in the cream, half-and-half, hot pepper sauce, salt, and pepper.
Place six standard-size flan dishes in a baking pan. Divide the vegetable mixture among the dishes. Sprinkle evenly with the Cheddar cheese. Divide the custard mixture among the dishes. Pour warm water into the pan to come halfway up the sides of the dishes. Bake in the oven for 35 to 40 minutes, or until the center of each custard still jiggles slightly. Remove from the oven and lift the dishes from the hot water. Place the dishes on a baking sheet.
Evenly sprinkle 1 tablespoon of sugar over each custard. Using a hand-held blowtorch, caramelize the sugar.
Source: Crème Brûlée by Lou Seibert Pappas