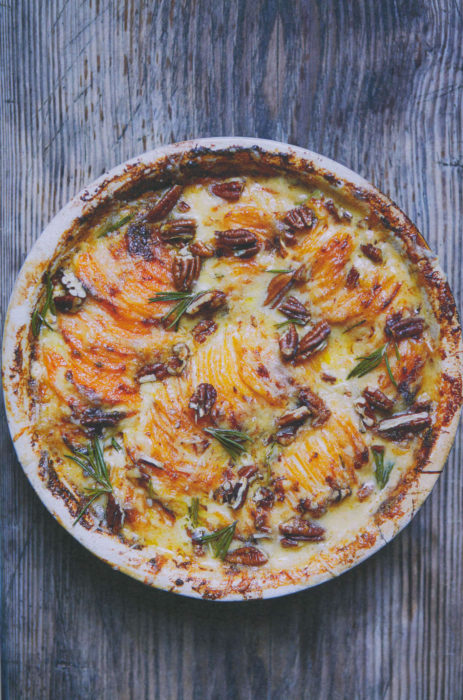 In John Whaite's wonderful Perfect Plates in 5 Ingredients there is this rather interesting recipes. John notes that not even he needs meat to make a meal, or at least not every meal. This most hearty gratin will lower your appetite and elevate your satisfaction level. I suppose this dish is a tad heavy for a summer night, perhaps more something to target for fall. And yet, when the sun has set and the evenings now have a tint of coolness, you might want to make this dish now. And not wait for deep fall or Thanksgiving.
This recipe is an excellent example of how to achieve a wonderful dish with just five ingredients. John notes that the nuttiness from the cheese and pecans matches so successfully with the sweet and earthy potato.
John provides options for this dish. Regular potatoes instead of sweet. Stilton or Cheddar cheese. You might even try Monterey Jack.
---
Nectarines with a Cobbler of Thyme, Honey and Strawberry Yogurt
Yield: serves 2 to 4
Ingredients:
2 ¾ pounds sweet potatoes
1 ¾ cups heavy cream
Sprig of rosemary
3 ½ ounces Gruyere cheese
½ cup pecans
Butter, for greasing
Sea salt flakes
Coarse black pepper
Preparation:
Preheat the oven to 400°F.
Grease a 9-inch pie dish (ceramic is best) with butter. Whatever you do, don't use a dish with a loose bottom, or you'll be scrubbing your oven floor for weeks.
Peel the sweet potatoes and slice each very thinly—I use a mandoline or a food processor, but it can be done using a knife, with a straight eye, and steady hand. After you've sliced each potato, rearrange the slices as though you were trying to stick them back together to reform the whole potato. Wedge these bundles into the greased dish randomly and at different angles—treat them as though the potatoes were whole, just packing them tightly into the dish.
Heat the cream in a medium saucepan over low heat. Add the rosemary with a pinch of salt and pepper. Once the cream comes to a simmer, remove from the heat, and leave to infuse for 5 minutes.
Pour the infused cream over the waiting sweet potato. Cover the dish with foil, and bake for 45 minutes, then remove from the oven and take off the foil.
Coarsely grate the cheese, and roughly chop the pecans, then scatter both cheese and nuts over the baked gratin. Return to the oven for an additional 15 to 20 minutes, until the cheese top is bronzed, and the sauce is bubbling. Allow to cool and set for 15 minutes before diving in.
---
Source: Perfect Plates in 5 Ingredients [Kyle Books, 2017]