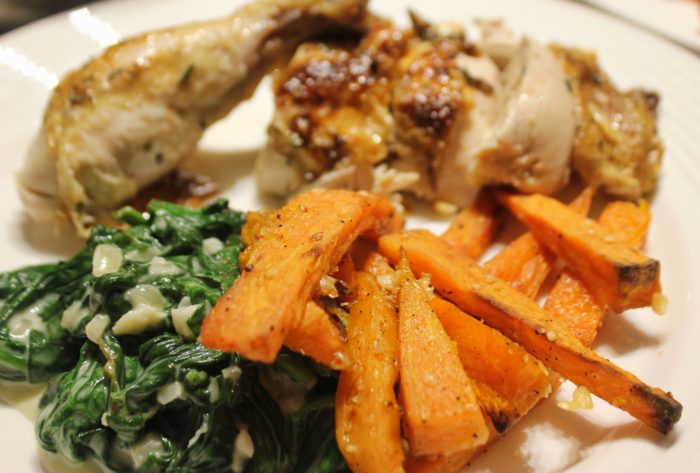 Fries. We surely crave them. Want them. Okay, we need them.
Sweet potato fries are actually healthier for us and, if you can avoid deep frying, then really, really healthier. To make sweet potato fries, you can find many recipes with alternative techniques. Great French fries, of course, are double fried. So great sweet potato fries can be made with a double dose of heat, first par-boiling in water followed by a round of baking in the oven.
Ah, but here, that two-step process is avoided. There is just one round of baking, yet the final product is just superb. A cheesy and firm crust enclosing a lovely soft interior. The contrast of crust and interior is delightful.
With the cheese here, you don't need a dip for your fries. But I wouldn't stop you from your favorite: ketchup, mustard, mayo, perhaps even guacamole.
Sunday is the Superbowl. You'll want snack food and the whole thing takes four hours. That's a lot of snacking, a lot of food. Have at least one healthy treat for yourself. And this "healthy" thing is actually addictive!
Oh, the picture. Yes, these fries make an excellent side dish. Here spinach and chicken and fries are combined in a plate of pure comfort. At her cooking school, Cooking by the Book, Suzi really stays away from deep frying — the mess and the lingering smells and the cleanup can be massive if you are cooking for 30 people. But a tray of baked sweet potato fries? No problem.
---
Sweet Potato and Parmesan Fries
Yield: serves 6
Ingredients:
2 ½ pounds sweet potatoes, washed and cut into ½-inch wedges
10 garlic cloves
4 tablespoons unsalted butter
4 tablespoons extra virgin oil
2 sprigs rosemary, chopped, optional
2 ounces Parmesan cheese freshly grated
Salt and freshly ground black pepper to taste
Preparation:
Preheat the oven to 400 degrees F.
In a small saucepan heat the butter and olive oil until the butter has melted. Add the garlic and bring to a low boil, immediately reduce the heat to a simmer and cook for about 5 minutes until the garlic is lightly brown. Shut the heat off.
In a large bowl, toss the sweet potato wedges together with the garlic oil/butter until they are all well coated. Tip them onto a prepared roasting tray and arrange them in a single layer. Bake for about 30 minutes.
Bring the chips out of the oven and carefully loosen them from the tray. Sprinkle the rosemary and Parmesan all over and shake the try to combine. Return to the oven for another 5 minutes or so to become crispy.
---
Source: Gatherings by Flora Sheddon [Mitchell Beazley, 2017]
Photo Information: Canon T2i, EFS 60mm Macro Lens, F/4.5 for 1/50th second at ISO‑250