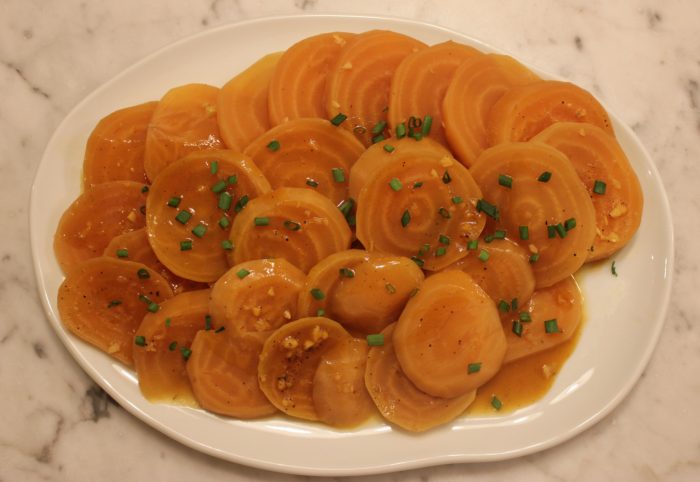 Last week I posted a review of The Vermont Non-GMO Cookbook. Once reviewed, this striking book was not put back on the shelf. Suzi and I have marked twenty recipe we want to try. The beet recipes are the ones that shine most brightly. Lots of beet recipes:
Maple-Roasted Beet Soup with Fresh Goat Cheese and Pistachios

Roasted Beets Candied and Pickled with Multicolored Pickled Green Beans and Micro Herbs

Organic Multi-colored Beet Hash

Roasted Gilfeather Turnip, Beets, and Farro Salad with Goat Cheese

Roasted Kelly Way Garden Beets Salad with Herbed Chevre, Arugula, and Pesto

Sweet and Sour Beets
We began with these Sweet and Sour Beets. Thinly sliced beets cooked in orange juice spiked with garlic, maple syrup, star anise, and garlic.
These are excellent, meaty excellent. Most of us have one or two veggies we like and the rest, well, we pass. Carrots can be tough. Lettuce is all water. Potatoes are soft, but satisfying with enough butter. Green beans offer initial resistance to your bite but then yield and collapse. Beets. Beets have that most distinctive flavor but even more is their texture. There is a most satisfying, consistent texture to beets. They are "meaty" and you notice the fulness with each bite.
The sauce is truly sweet and sour. The beets are punchy and a perfect side dish for almost any meal you might compose.
---
Sweet and Sour Beets with Orange Juice, Maple Syrup, and Garlic
Yield: serves 4 as a side dish
Ingredients:
The Beets:
3 large beets, about 22 ounces, peeled and sliced into ¼ inch thick rounds
Sweet and Sour Sauce:
½ cup orange juice
2 medium garlic cloves, peeled and minced
3 tablespoons smoked maple syrup, plus more for drizzling
2 tablespoons organic, unfiltered apple cider vinegar
1 whole star anise
Salt and freshly ground black pepper
1 tablespoon butter
2 tablespoons fresh chopped chives
Preparation:
Place the beets, orange juice, garlic, maple syrup, vinegar, and star anise in a large skillet. Season with salt and pepper to taste. Bring to a boil over medium-high heat; then reduce to a simmer, Bel and cook until fork tender, about 50 minutes, turning the beets every so often to coat with die liquid. Using a slotted spoon, transfer the beets to a serving plate.
Bring the sauce to a simmer over medium heat. Whisk in the butter and continue to cook until the sauce thickens and coats the back of a spoon, about 4 minutes. Season with salt and pepper. Drizzle the sauce over the beets. Garnish the beets with chives and drizzles of smoked maple syrup, if desired.
---
Source: The Vermont Non-GMO Cookbook by Tracey Medeiros [Skyhorse Publishing, 2017]
Photo Information Canon T2i, EFS 60mm Macro Lens, F/3.5 for 1/30th second at ISO‑1250