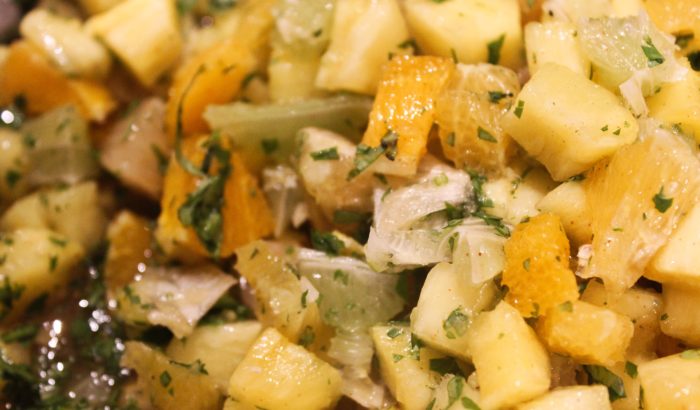 At first blush, I think of salsa as a summer food, something to go with my chips and margarita on a summer afternoon. Or morning.
But, when I stop to think about it, Suzi and I do salsa all year round. Dinner for us last night was a new margarita — so good I'll blog it here — and classic Doritos with this salsa. Yes, we use Doritos quite often because that mix of spices on the surface is a grand match for all kinds of salsas.
And this salsa is exceptional. No jalapeno. No peppers at all. No onion. And while you normally drink your tequila while eating your salsa, here the tequila goes IN the salsa. How efficient is that?
While she was making this yesterday, Suzi was bit edgy. She was tired. We had gone for a 10-mile hike over the Brooklyn Bridge and back. She just wanted to sit and watch the Seahawks beat Green Bay.
But she persevered, cutting up all the different citrus components called for. The result is wonderful because no two bites are the same. Sometimes you get only sweet pineapple. Sometimes pineapple and lime. Once in a while, it's lime and grapefruit! Refreshing and certainly never boring.
Great with Doritos. You know the Doritos story? In the 1950s, the single Mexican restaurant in Disneyland had leftover tortillas each day. They decided to cut them into strips, coat with spices, and bake/fry. The result is history and the perfect complement for this salsa.
Seahawks lost. Jets lost. Giants lost. Thank god for margaritas.
Tangy Citrus Salsa
Yield: about 3 cups
Ingredients:
1 ripe pineapple, peeled and cored
1 grapefruit, peeled and sectioned
2 oranges, peeled and sectioned
2 limes, peeled
1 lemon, peeled
2 tablespoons chopped fresh cilantro leaves
2 tablespoons sugar
½ teaspoon salt
1 teaspoon cayenne chile powder
1jigger (3 tablespoons) tequila
Preparation:
Cut the pineapple, grapefruit, oranges, limes, and lemon into bi-inch dice. Combine them with the remaining ingredients in a mixing bowl and refrigerate.
Serving suggestions: Serve chilled with pork or highly-flavored fish such as mackerel.
Storage: Best used the same day, for peak freshness.
Variation: Substitute tangerines for the oranges when in season.
Source: Coyote Pantry by Mark Miller [Ten Speed Press, 1993]
Photo Information: Canon T2i, EFS 60mm Macro Lens, F/4.5 for 1/50th second at ISO‑2000