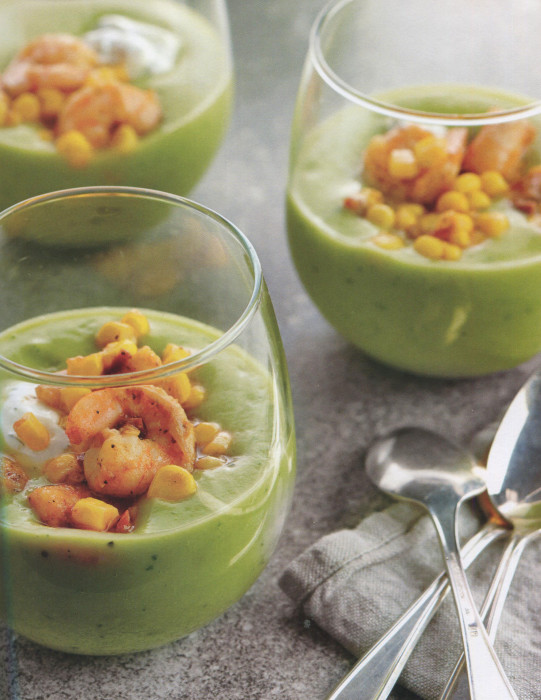 I posted this recipe a couple of years ago. Avocado soup is a dish destine for the Gods. Rich, thick, and with penetrating flavor, you'll love the soup itself. And, here, there is the adornment of lime cream, corn, shrimp and chipotle. Quite an array, one destined to provide you with satisfaction.
Yesterday, I also posted an avocado recipe. Just a simple avocado half with the pit hole filled with balsamic vinegar. Avocados are a miracle food, whether used with great simplicity or with this recipe's joyous complexity.
Suzen and I discovered avocado soup just a few years ago. On the menu for her cooking school clients, she's tested versions that incorporate ginger or chilies. The soup itself contains a layer of heat.
The surprise in this recipe is that the soup is made as simply as possible: avocado, chicken broth, cilantro and lime juice. No heat! The "spike" in flavor for the dish as a whole comes from two directions: a lime-infused sour cream and shrimp cooked with corn, cumin, and garlic. There's a complete array here of flavors and textures. The soup itself is thoroughly chilled, so that cold avocado tang bangs right up against the lime-infused sour cream and cumin-tinged shrimp.
Served with a side salad, this could be your main dish. Or, in smaller portions, it can electrify your mouth, readying you for the rest of a summer meal. White wine or, perhaps, very cold beer are wonderful accompaniments.
---
Avocado Soup with Lime Cream and Seared Chipotle Shrimp
Yield: serves 8
Ingredients:
For the soup:
1 quart (4 cups) chicken broth, homemade or store-bought
4 medium ripe avocados, peeled, pitted, and chopped (about 3 cups)
2 tablespoons finely chopped fresh cilantro
2 tablespoons lime juice
Coarse salt and freshly ground pepper
For the lime cream:
¾ cup sour cream
1 tablespoon finely chopped fresh cilantro
1 teaspoon finely grated lime zest
Coarse salt and freshly ground pepper
For the seared chipotle shrimp:
1 pound medium shrimp, peeled, deveined, and tails left on (31 to 40 count)
½ teaspoon ground cumin
½ teaspoon freshly ground pepper
¼ teaspoon coarse salt
1 tablespoon extra-virgin olive oil
1 cup fresh or thawed frozen corn kernels
1 garlic clove, minced
1 canned chipotle pepepr in adoabo sauce, finely chopped, plus 1 tablespoon of the sauce
1 tablespoon lime juice
Preparation:
TO MAKE THE SOUP: In a blender or food processor, puree the broth, avocados, cilantro, and lime juice until smooth. Season with salt and pepper, then chill the soup, covered, in the refrigerator for at least three hours or overnight.
TO MAKE THE LIME CREAM: In a medium nonreactive bowl, combine the sour cream, cilantro, lime zest, and salt and pepper to taste. Stir well to combine. Cover with plastic wrap and refrigerate until ready to use.
TO MAKE THE SEARED CHIPOTLE SHRIMP: Thoroughly pat the shrimp dry with paper towels. Season on both sides with the cumin, pepper, and salt.
In a large nonstick skillet over medium-high heat, pour in the oil. Add the shrimp and cook until heated through, about 2 minutes per side. Add the com and garlic to the skillet, and cook, stirring, until the vegetables are softened, about 2 minutes more. Add the chipotle chili, adobo sauce, and lime juice, and continue to cook until the shrimp is golden and the com is tender, about 2 minutes more.
TO SERVE: ladle ¾ cup of soup into each bowl (or glass) and then top each with 1 tablespoon of the lime cream. Divide the shrimp and com mixture evenly among the 6 bowls and serve immediately.
Source: Mr. & Mrs. Sunday's Suppers by Lorraine Wallace [Houghton Mifflin Harcourt, 2015]