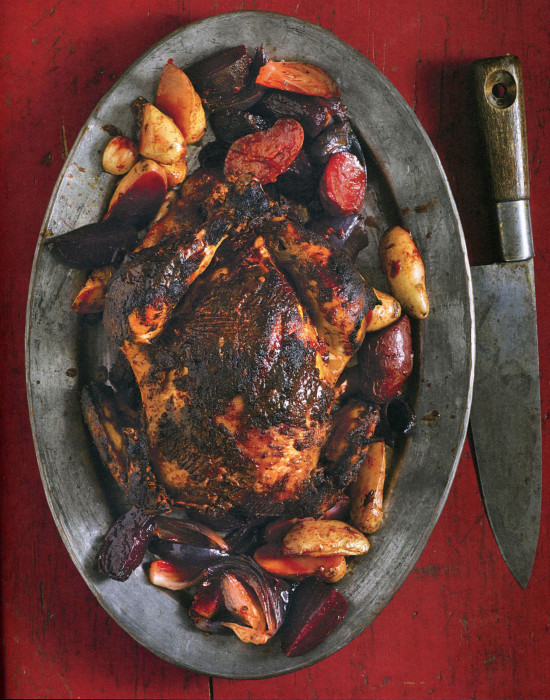 If you are going to have chicken, go all in.
Eat Mexico was published last year by Lesley Tellez and is devoted to the street and markets foods she discovered walking, literally walking Mexico City. Eat Mexico is filled with delectable dishes, ones Lesley has written up for the American cook.
But the recipes themselves remain intensely Mexican. "Tastes like chicken" is not the worst phrase in the culinary world but it can be uninspiring. This recipe is inspired, really intensely inspired. It does take some ingredients and some time. This recipe is a two-day enterprise but that picture, from Penny De Los Santos, should at least make you pause before considering other chicken ideas.
The bird marinates overnight in an adobo sauce made from 14 ingredients: chiles galore, onion, peanuts, cinnamon, vinegar, vanilla. I can't quite imagine how this bird is going to taste, but taste it will.
While roasting, vegetables are added for an automatic side dish. There are garlic and potatoes and onions, of course. But I've never tried roasting beets with a chicken before. It's going to bring color to the table and I'm sure that beets nestled next to that adobo-covered bird will achive sensational flavor.
For our next long weekend, Suzen and I are buying a big chicken and cluster of chiles. You need to begin this recipe early Saturday morning for your Sunday table. What better way to organize you entire weekend then around a chicken. It gives "tastes like chicken" a whole new context.
---
Roasted Chicken in Adobo

Yield: serves 10

Ingredients:

For the chicken and sauce:

1 whole chicken, giblets removed [about 4 pounds]

½ teaspoon of salt per pound of chicken

2 plum tomatoes

½ medium onion

2 cloves garlic, unpeeled

¼ cup raw peanuts

1 3-inch stick of cinnamon

2 morita chiles

2 guajillo chiles

2 dried arbol chiles

2 dried chipotle chiles

¼ cup white vinegar

1 tablespoon vanilla extract

1 lemon

1 small bunch thyme
For the vegetables:

12 cloves garlic, peeled

12 small red or white potatoes, cut in half

6 small beets, cut into quarters, or eighths if large

2 red onions, peeled and cut into eighths

Olive Oil

Salt and freshly ground black pepper
Preparation:

A day ahead, season the chicken generously with the salt and refrigerate in a covered container for about 4 hours.
Meanwhile, warm a comal or nonstick skillet to medium-high heat. Add the tomatoes, onion, and garlic and cook until soft and blackened in spots, 4 to 8 minutes.
Place 3 cups water in a medium saucepan and bring to a boil.
Heat a small skillet to low heat. Toast the peanuts and cinnamon, stirring constantly, until the peanuts turn a golden brown color, 2 to 3 minutes. (If black spots appear, lower the flame.) Transfer to a bowl. Raise the heat to medium and quickly toast the chiles in batches, 5 to 10 seconds per side or until aromatic, careful not to burn them.
Snip off the chiles' stems, and shake out the seeds. Add the chiles to the boiling water and cook until the skins soften, about 20 minutes. Transfer to a blender jar, and discard the water. Add the charred tomatoes, onion, garlic, peanuts, cinnamon, vinegar, and vanilla extract. Blend on high into a very smooth, thick paste. Season with salt.
Remove the chicken from the refrigerator and drain off any excess liquid. Slather with the adobo sauce, spreading it over and underneath the skin. Place the chicken in a resealable plastic bag and pour any remaining adobo on top. Refrigerate for 24 hours.
The next day, bring the chicken to room temperature, uncovered, about 45 minutes. Preheat the oven to 450°F.
Place the chicken breast-side up on a V-shaped rack set over a roasting pan. Cut the lemon in half and place it and the thyme in the chicken's cavity. Set the chicken in the middle of your oven and cook for 20 minutes.
Toss the vegetables with oil and season with salt and pepper and add to the roasting pan. Lower the temperature to 425°F and cook until the chicken is crispy and the juices run clear, or the internal temperature measures 165°F, about 1 more hour, turning the vegetables occasionally so they don't burn.
Let the chicken sit for 15 minutes before serving. Remove the lemon and thyme from the cavity, and slice. Serve with the vegetables.
---
Source: Eat Mexico by Lesley Tellez [Kyle, 2015]