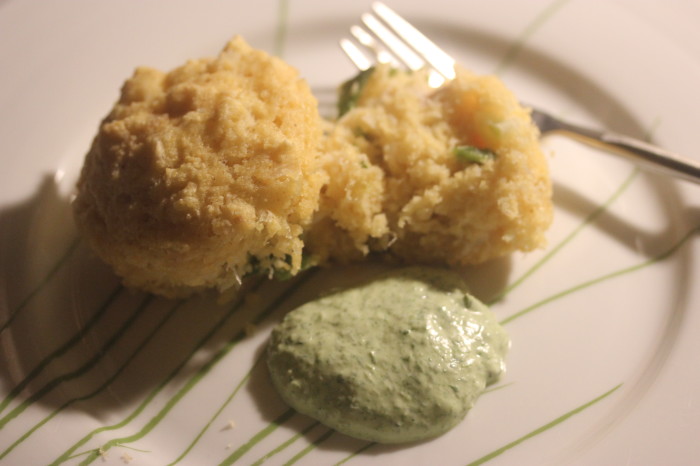 Here's a recipe from three years ago that I loved, one whose flavor I summon up in a flash. For Super Bowl, these can be a lively centerpiece to your Sunday feast.
"What are you making?" Suzen asked me. I was upstate. She was in the city. It was dinner time, I was on my own, and I had the opportunity to do whatever I wanted. Whatever. Things I had wanted for decades and never, never got to have. I don't want to give you the impression I'm deprived. But, still, …
"Hush puppies," I answered with quiet confidence.
"Don't make a mess," she cautioned. I heard the panic: "what is that man about to do to my kitchen."
"I'm fine. It'll be fine." I tried to reassure her.
"I mean it," she emphasized.
I ended up cleaning for hours. The "hush puppy" pan I thought I had did not quite work out. Wrong shape. Wrong size. Wrong. I tried it, but … There was some spilling, some sizzling, heavy smoke, intense smell.
So for the rest of the batter, I used mini-cupcake tins which worked just fine. [And that explains the picture above!] The flavor of poblano and crab does not depend on the shape or size. It's all in the mixture.
From The Cast Iron Skillet Cookbook, these puppies are richly satisfying. They can be an appetizer or the main course. The Green Goddess Dipping Sauce was posted yesterday, because it truly stands on its own. There is synergy though in having these highly flavored puppies with the tarragon tang of Green Goddess.
---
Roasted Poblano and Crab Hush Puppies
Yield: 24 puppies
Ingredients:
1 poblano pepper
1 ½ cup yellow cornmeal, finely ground
1 cup all-purpose flour
1 tablespoon sugar
¾ teaspoon salt
½ teaspoon freshly ground black pepper
1 teaspoon baking powder
2/3 teaspoon baking soda
2 large eggs, beaten
1 cup buttermilk
¼ cup [1/2 stick] unsalted butter
3 tablespoons finely chopped green onion
 ½ pound fresh cap [or shrimp, roughly chopped]
¼ cup vegetable oil
Green Goddess Dipping Sauce [see separate post]
Preparation:
On an open flame of a gas burner, on a barbecue, or on a baking sheet under the broiler, roast the pepper until charred on that side. Rotate until charred all over. Transfer with gongs to a brown paper bag and close. Let the pepper steam for 5 minutes. When cool enough to handle, peel, seed, stem, and finely chop
Meanwhile, combine the cornmeal, flour, sugar, salt, pepper, baking powder, and baking soda and mix well. In a separate bowl, combine the eggs, buttermilk, melted butter, poblano pepper, green onion and crab [or shrimp].Fold the wet ingredients into the dry ingredients until combined. Do not ovemix.
Over medium heat place your hush puppy pan [ebeskiver] o the burner and allow to warm up. Add 2 teaspoons of vegetable oil to each well. Once hot, add heaping tablespoons of the butter to each well. Cook until they are golden and release easily, about 4 minutes, then flip with a skewer or fork. Cook for another 4 to 5 minutes, then plop all of them out onto a platter.
Serve at once with the sauce. Cool any remainders and freeze.
---
Source: The Cast Iron Skillet Cookbook: Recipes for the Best Pan in Your Kitchen by Sharon Kramis and Julie Kramis Hearne
Photo Information: Canon T2i, 18-55MM Macro lens, F/2.8, 1/100th second, ISO 1600