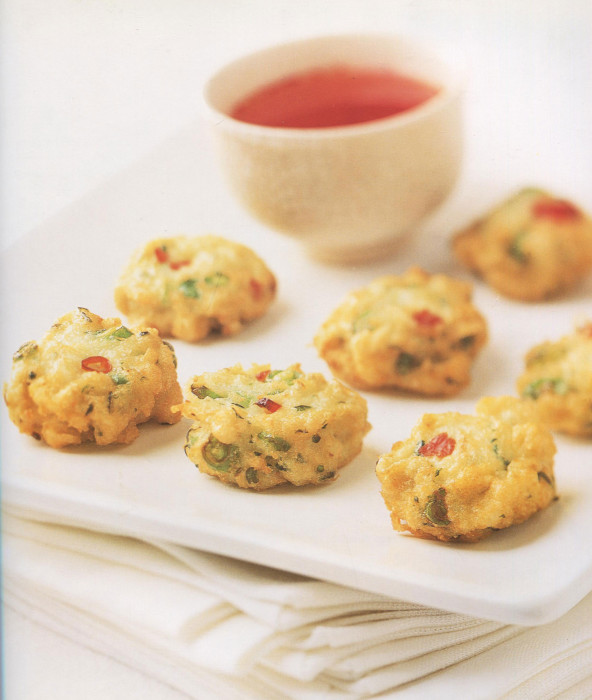 Yesterday I did a cookbook review of Fingerfood by Elsa Petersen-Schepelern. I mentioned three recipes that seem ideally posed for a Super Bowl Feast. This is one of them: different, bright and bursting with flavor. How can a crabcake be different? Well, this has fish sauce and beans and noodles. Yeah, it is that different. Read on and consider this for Sunday.
---
Thai Crabcakes with Chili Dipping Sauce
Yield: about 30
Ingredients:
For the crabcakes:
3 red chilies, cored
3 scallions, finely sliced
2 garlic cloves, crushed
4 cilantro stalks, finely chopped
1 inch fresh ginger or galangal, chopped
6 kaffir lime leaves, finely sliced, or grated zest of 2 limes
1 tablespoon fish sauce
8 ounces boneless fish fillets, such as cod
1 ½ cups crabmeat (fresh, frozen, or canned)
2 Chinese long beans or 12 beans, finely sliced
1 ounce. beanthread (cellophane) noodles (1 small bundle)
1 egg, beaten
2 tablespoons peanut oil, for frying
For the chile dipping sauce:
½ cup white rice vinegar or lime juice
1 red chili, finely sliced
1 tablespoon fish sauce, such as nam pla
1 scallion, finely sliced
1 teaspoon brown sugar
Preparation:
Put the chilies, scallions, garlic, cilantro stalks, ginger or galangal, kaffir lime leaves or lime zest, and fish sauce in a food processor and work to a paste. Add the fish and work to a j paste. Transfer to a bowl and mix in the crabmeat and beans.
Soak the beanthread noodles in a bowl of hot water for 5 minutes, then drain and snip into short pieces, about 1 inch long. Mix into the fish and stir in the beaten egg. Wet your hands with water and shape the mixture into flat hamburger-shaped patties of 1-2 tablespoons each.
Heat the oil in a wok or skillet and swirl to coat the sides. Add the crabcakes, 3 at a time, and sauté until golden. Transfer to a plate lined with crumpled paper towels and keep them hot in the oven while you cook the remaining crabcakes.
Mix the dipping sauce ingredients together in a small bowl and serve with the crabcakes.
---
Source: Fingerfood by Elsa Petersen-Schepelern [Ryland Peters & Small, 1999]