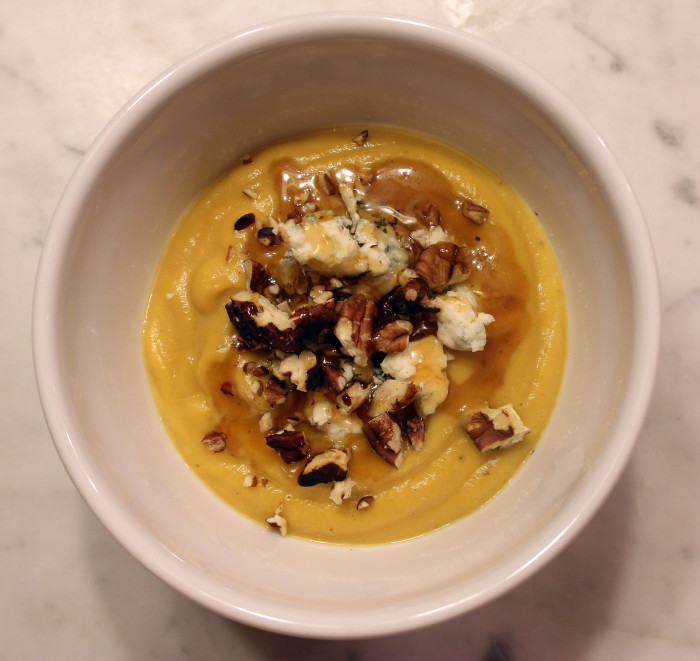 Fall is the time for exploiting all the wonderful flavors of squash and pumpkins, and — pumpkin pie aside of course — no dish better uses this flavor succulence than soup. It can be very astonishing to enjoy a great bowl of soup. A great bowl, that is.
Most of us associate soup with red-and-white cans. Decent perhaps. Never exceptional. Or, you may remember one of those soups, usually offered on Fridays, from your grade school. Those watery bowls begging for salt, and in my grade school the happy cook used salt by the handful.
So, by the time we become adults, the word "soup" is four-letter word.
And that is a tragedy.
Suzi and I are addicts of butternut squash soups, rich, thick as porridge, and steaming with flavor. Here the soup has a bounty of other, subtle flavors. There is pear and white wine, some onion, and even honey. And there is the topping: a combination of crumbled blue cheese and toasted walnuts.
The soup is decidedly rich and fun to put in your mouth. That very thick soup, the tang of the blue cheese, and the crunch of those nuts. Oh, we added the honey on top rather than integrating into the soup itself.
The recipe calls for vegetable stock and we used a vegetable bouillon cube instead of a can. I know that, if we had the time to make our own veggie stock, the soup would have been even better. Though, I must day, I'm not sure if it could be better. It was magnificent.
As a side, this would be a zesty introduction to your Thanksgiving turkey. You can make this soup in volume over the weekend and then enjoy during the week. A large serving in a bowl, with some bread and salad and a glass of white, will give you a true comfort meal.
And, it's soup!
The directions below say to process the soup in your blender and then sieve. I think that would have resulted in the loss of way too much of the volume and I love a thick soup. So, you can skip that step, or thin the soup with water before sieving if you prefer.
If this soup idea intrigues you, investigate Artisanal Cooking by Terrance Brennan. Lots and lots of similar excellent ideas.
---
Roasted Butternut Squash Soup with Blue Cheese and Walnuts

Yield: serves 6

Ingredients:

3 pounds butternut squash [1 large squash]
¼ cup canola oil
3 teaspoons plus a pinch kosher salt
White pepper in a mill
¼ cup plus 1 tablespoon crushed walnuts [about 12 walnut halves]
½ cup Spanish onion, medium dice
½ cu cored, peeled pear, any variety, medium dice
½ cup Riesling or other full-bodies white wine
5 ½ cup vegetable stco9ik or low-sodium, store-bought vegetable broth
2 teaspoons honey
½ cup crumbled Roquefort or other blue Cheese [from about 2 ounces cheese] at room temperature
Preparation:

PREHEAT the oven to 350°F. Cut off the ends of the squash. Cut the squash in half lengthwise and remove the seeds and strings, using a tablespoon or small scoop. Rub the cut sides lightly with 2 tablespoons of the oil, season with a total of 1 teaspoon salt and 4 grinds of pepper, and place cut-side down on a cookie sheet. Roast until tender to a knife-tip, approximately 1 hour. Remove from the oven and, when cool enough to handle, scoop out the flesh. You should have 3 cups of roasted squash.
MEANWHILE , put the nuts in an 8-inch sauté pan and toast over medium heat, shaking constantly, until fragrant, 2 to 3 minutes. Remove from the heat and set aside.
POUR the remaining 2 tablespoons oil into a large, heavy-bottomed pot and heat over medium heat. Add the onion, pear, and a pinch of salt and cook without browning for 20 minutes. Pour in the Riesling and cook, scraping up any bits stuck to the bottom of the pot, until all of the wine has reduced by two-thirds, approximately 5 minutes. Pour in the stock and bring to a boil over high heat. Add the roasted butternut squash. Lower the heat and simmer for 30 minutes.
WHEN soup is done, pour it into a blender in batches and blend until smooth. Season with the salt and add the honey. Strain the soup through a fine mesh strainer: if it seems too thick, add a few tablespoons of water to thin it slightly. (It should just coat the back of a wooden spoon.)
DIVIDE the soup among 4 warm soup bowls. Garnish each bowl with 1 tablespoon crumpled cheese and one-fourth of the crushed nuts. Serve.


---
Source: Artisanal Cooking by Terrance Brennan [John Wiley & Sons, 2005]

Photo Information: Canon T2i, EFS 60mm Macro Lens, F/5.6 for1/30th second at ISO‑500