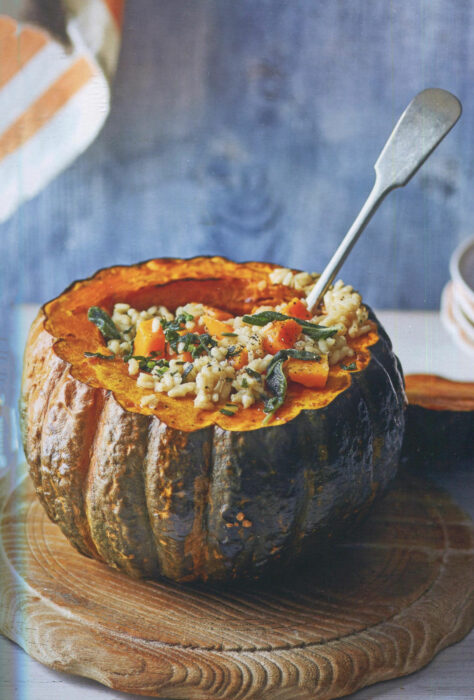 Want to have fun? I mean a little evil fun? Make this dish but keep it a secret. On Thanksgiving at your table as you get ready to eat, tell everyone, "Before we have the turkey, friends and family, this year I want to start with Pumpkin Pie." Your table will be surrounded by faces that are in disbelief. Go to the kitchen, come back with this dish, set it on the table, take your chair, and just smile.
It's a savory dish. A very savory dish. And I cannot imagine a more perfect side dish to that turkey.
This will be on our Thanksgiving menu. For very good reason. We have Italian relatives coming and we want to surprise them.
And tease them, too. If Suzi won't play this joke — she can be a tad stiff when it comes to dinner jokes — then by golly I am going to do that. This dish will be a warm introduction to our holiday feast.
---
Roasted Risotto Pumpkin Pie
Yield: serves 4
Equipment:
1 6-cup ovenproof dish with lid
Ingredients:
1 small pumpkin or queen squash (about 2+ pounds)
1 tablespoon olive oil, plus a little extra for frying the sage leaves
½ ounce unsalted butter
1-2 shallots, depending on their size, finely chopped
1 garlic clove, crushed
4 ounces butternut squash, peeled, deseeded and chopped into bite-sized cubes
5 ½ ounces Arborio risotto rice
A small bunch of fresh sage, half roughly chopped, remaining leaves reserved for garnish
14 ounces vegetable stock
1 ounce Parmesan cheese, finely grated (or vegetarian alternative)
Salt and freshly ground black pepper
Preparation:
Preheat the oven to 400°F. Start by slicing off the top of the pumpkin to make a lid or hat and place in a large, shallow roasting tin. Scoop out the seeds from the pumpkin and hollow out some of the flesh to create the container for the risotto. Rub the pumpkin with a tablespoon of the olive oil and season with salt and pepper. Place in the roasting tin along with the lid and bake for 35 minutes. Remove from the oven and set aside.
Turn the oven down to 170°C/fan 150°C/gas mark31/2. Put the ovenproof dish into the oven to warm.
Melt the butter in a medium non-stick frying pan over a medium heat, add the shallots and fry for 5-7 minutes or until softened and golden. Add the garlic and butternut squash and stir well, then add the rice and the chopped sage (remember to save the whole leaves for later). Make sure all the ingredients are evenly coated in the butter.
Add the wine and stock and bring up to a gentle simmer. As soon as you have reached this point, tip the risotto into the warm ovenproof dish and bake uncovered for 30 minutes. Remove from the oven and stir in the Parmesan (or vegetarian alternative). Spoon the risotto into the roasted pumpkin and bake for 15-20 minutes or until the pumpkin container is warm.
While the filled pumpkin is warming through, heat a glug of olive oil in a nonstick pan and fry the sage leaves over a high heat.
Just before serving, top the risotto with the sage leaves. Maneuver the pumpkin onto a plate or board and finish by placing the lid on top at a jaunty angle.
---
Source: Higgidy by Camilla Stephens [Mitchell Beazley, 2018]